June 13, 2023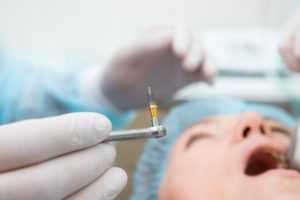 Dental implants are a popular solution for those with missing teeth because they provide benefits above and beyond other treatment options. Not only do implants mimic your natural teeth in look and feel, but because they are inserted into your jawbone, they also provide the stability and structure your mouth needs to stay healthy for decades to come.
This process does involve oral surgery, which can certainly feel intimidating if you don't know what to expect! If you have a procedure coming up and are curious about recovery, here are a few commonly asked questions that might help you set expectations. Read on to learn more!
Will Recovery Be Painful?
Your dentist will apply a local anesthetic during the operation itself so that you have a stress-free experience, but many patients wonder whether the recovery itself will be painful.
Though the answer varies from person to person, you can trust that your dentist ensure you have instructions to address any pain you might experience as the anesthetic starts to wear off. They may prescribe pain medication at the office, but if not, over the counter medication like Tylenol or Ibuprofen are usually sufficient.
Some other typical symptoms you may experience during recovery include:
Bleeding. There is often oozing that occurs 48 to 72 hours afterwards. Typically, gauze is placed to stem the flow, so be sure to bite down firmly on the material to stop the bleeding. If it continues or worsens, please call the office to let them know!
Face Swelling. You can expect some swelling of the face for 3 to 4 days after your procedure that should subside quickly.
Bruising. You might notice bruises on your face around the area where surgery was done.
Tingling or numbness. It's common to experience these sensations on your lip and/or tongue.
Why Do I Need An Antibiotic?
Antibiotics are required once your dental procedure is completed in order to prevent infection around the implant that was put into place. It's important that you follow the directions provided on the bottle and continue with treatment until the medication is gone. If you have a reaction, let your dentist know so they can follow up with appropriate next steps.
Can I Brush My Teeth?
Yes! It's essential to continue with good oral hygiene practices post-surgery. You can resume brushing after 24 hours and can also rinse periodically with mild salt water. Please note: you want to avoid using mouth wash or hydrogen peroxide for at least 14 days.
Hopefully this information has put your mind at ease about some commonly asked questions following dental implant surgery. If you want to know more about what to expect from the process, please reach out to your dentist. They can address any further concerns so that you can arrive for your appointment feeling confident and comfortable about what is to come.
About the Practice
At Scotch Plains Fanwood Dental Care, patients of all ages can expect to receive quality care that puts people first. From general dentistry to more complex restorative services like dental implants, you and your whole family can find the right treatment for your oral healthcare needs. If you are interested in scheduling an appointment, you are welcome to reach the office through the website or by calling (908) 322-3222.
Comments Off

on What Happens After Dental Implant Surgery? 3 Pressing Questions Answered
No Comments
No comments yet.
RSS feed for comments on this post.
Sorry, the comment form is closed at this time.