Emergency Dentist — Fanwood, NJ
Fast Relief for Urgent Dental Pain
When you've broken one of your teeth or your child is complaining of a terrible toothache, the absolute last thing you want to do is spend time searching for an emergency dentist. Instead, a little preparation can help you get the fast and professional care you need as quickly as possible. Should you or a loved one ever need fast relief for dental pain, be sure to call Scotch Plains Fanwood Dental Care. Our dentists have years of emergency experience, and our dental office is happy to schedule same-day appointments so hurting patients are able to get the relief they need without having to wait.
Why Choose Scotch Plains Fanwood Dental Care for Emergency Dental Care?
Skilled Team Who Can Treat Any Dental Emergency In-House
Same-Day Appointments for Emergency Patients
Happy to Accept All PPO Dental Insurance Plans
What to Do in a Dental Emergency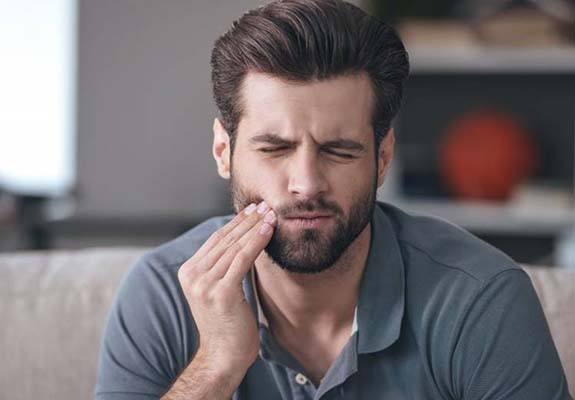 Step 1: Call us right away to schedule a same-day emergency appointment.
Step 2: Describe your situation to us so we can give you personalized first-aid instructions.
Step 3: Come visit us for an appointment with your Fanwood emergency dentist.
Step 4: Review your dentist's findings as well as your treatment options and make a plan.
Step 5: Get the fast, professional emergency dental care you need right away.
The Most Common Dental Emergencies
Dental emergencies tend to come in one of two unpleasant varieties. There are those that occur in an instant, like with a broken or knocked out tooth due to an accident, and those that take months to develop, such as with a severe toothache. In either scenario, seeking out professional care as quickly as possible is the best way to minimize pain as well as any damage to the smile. There are a few things you can do on your own, however, to help take control of a situation before you're able to reach our office:
Understanding the Cost of Treating Dental Emergencies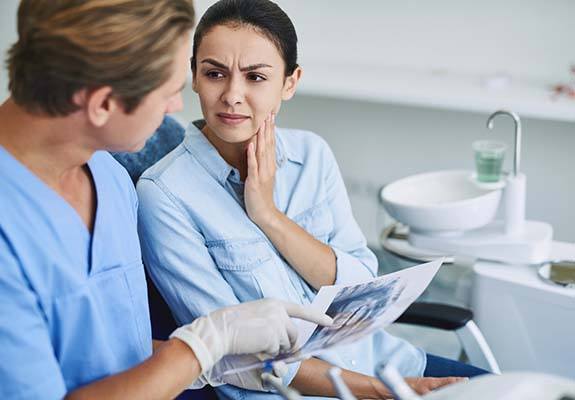 Worries about cost should never keep you from giving us a call in the midst of a dental emergency! While waiting will often make the situation worse (and more expensive), contacting us right away will help keep the cost of emergency dental care as low as possible. It's impossible to know for sure how much your dental emergency will cost until you come see us for a consultation, but you'll be pleased to hear that emergency exams themselves are relatively inexpensive. To help make emergency care more affordable, we accept all PPO dental insurance plans, offer flexible financing, and we even have our own in-house dental savings plan. Read on to learn more about the cost of dental emergencies in Fanwood.
Every Dental Emergency Is Different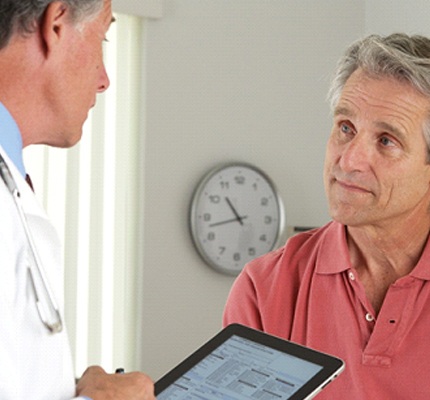 Every dental emergency is different, so the cost of urgent dental care is never the same from patient to patient. One person might just need a filling to fix a small cavity, while another may require multiple teeth to be removed and replaced. Our goal with every emergency patient is to get them out of pain as quickly as possible before repairing any damage to the smile. This way, you'll have a clear head while we review your treatment options and help you create a custom care plan. You will always know an estimated price before we begin any treatment.
Does Dental Insurance Cover Dental Emergencies?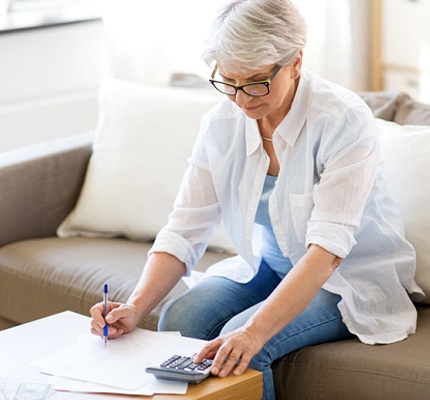 If you have dental insurance, you can typically count on it to provide some assistance in paying for your emergency dental care. While every policy is slightly different, the majority of plans will cover at least one emergency exam a year. Additionally, basic treatments and common restorations that are most often used to address dental emergencies are usually 50-80% covered by dental insurance. Our knowledgeable team will be happy to review the details of your plan to help you navigate your coverage and will do everything they can to ensure your benefits are being maximized.
Other Options for Making Dental Emergencies Affordable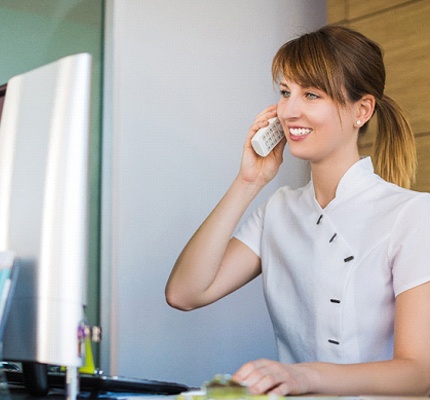 If you are uninsured, we have other options for helping make emergency dental care more affordable. Depending on your unique situation, you may be interested in:
Our In-House Dental Plan: With one flat yearly fee, you can enroll in our In-House Dental Plan for special discounts on treatments in our office. You'll enjoy full coverage for basic preventive care that will help you prevent dental emergencies and considerable discounts on most services used to treat them. All of this without any deductibles, maximums, waiting periods, or confusing terminology.
Limited Time Special Offers: With a rotating menu of special offers, we're happy to help make your care as affordable as possible. Our offers include new patient specials, senior citizen discounts, and more, just visit our website or give us a call to find out more!
Taking Care of Your Smile Can Save You Money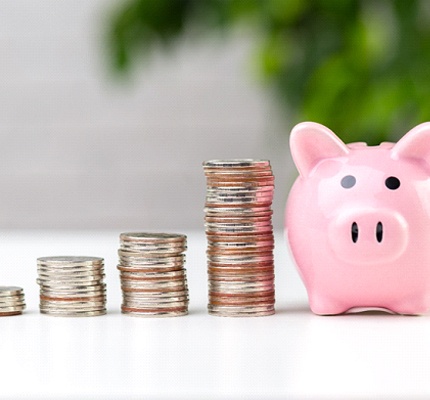 Of course, the best way to save money on emergency dental care is to avoid needing it entirely! As the saying goes, an ounce of prevention is worth a pound of cure, and this especially rings true for oral healthcare. Should you notice any concerning symptoms or signs of a dental emergency, getting in touch with us right away will save you money than if you take a wait and see approach.
Keys to Preventing Dental Emergencies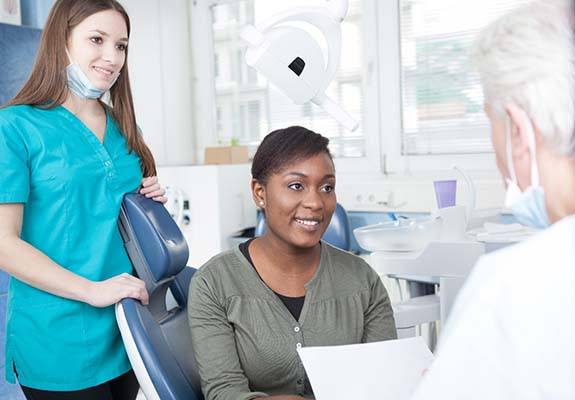 Looking for ways to prevent dental emergencies in Fanwood? You're not alone. Many individuals prefer to avoid visiting the emergency dental office if at all possible but knowing what you should do is essential. Whether it is improving your oral hygiene routine, keeping (not canceling) your dental checkups and cleanings, or wearing proper mouth protection while engaging in various sports, you can take charge and safeguard your smile year-round. Below are some helpful tips our team at Scotch Plains Fanwood Dental Care are pleased to share:
Keep Your Regular Dental Appointments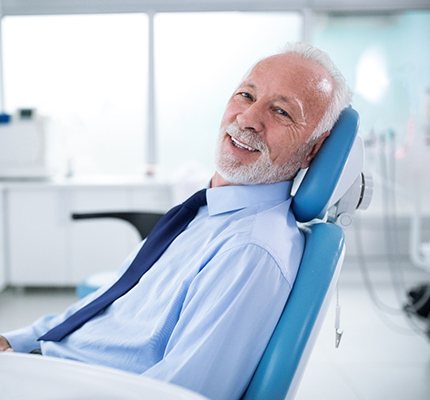 Your dentist in Fanwood is one of your greatest allies in the fight against tooth decay, cavities, and gum disease. Allowing any of these to remain unchecked or untreated can lead to serious infections and irreversible damage. By keeping your six-month dental checkups and cleanings, you will allow our team to identify problems early on and help you maintain optimal oral health. We'll not only carefully examine your oral cavity, but we'll also remove any hardened plaque and tartar while ensuring any restorations are in tip-top shape.
Keep Brushing and Flossing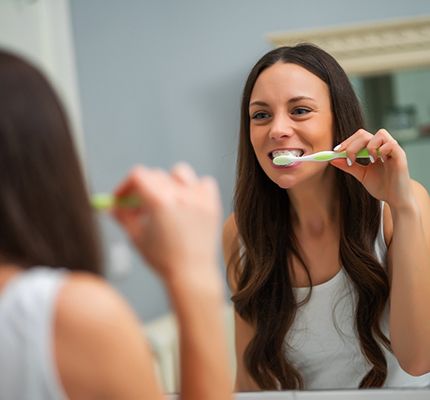 Just as important as regular dental checkups are proper at-home oral hygiene habits. Brushing twice a day for two minutes, using fluoride toothpaste, flossing, and rinsing with an ADA-approved mouthwash is necessary if you want to prevent decay, disease, and severe infections. No one wants to learn they need a dental crown, root canal, or tooth extraction. You can reduce your risk for these restorative procedures by staying on top of your dental health in between your appointments.
Be Mindful What You Eat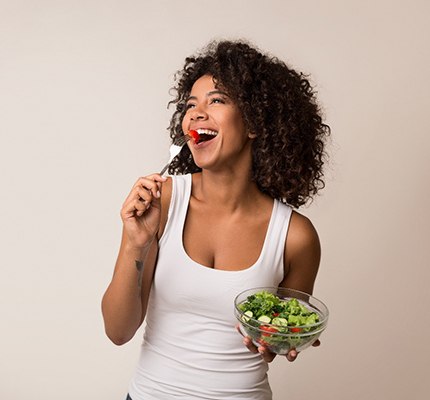 Believe it or not, the foods you consume can land you in the emergency dental office in Fanwood. Too much sugar and starch are known to produce cavity-causing bacteria that result in harmful acids breaking down your tooth enamel. Try incorporating healthier options that will work to improve your gum health, strengthen your pearly whites, and reduce your risk for diabetes and other health-related conditions. Because your mouth and body are closely connected, it's important to be mindful of what you're choosing to consume each day.
Wear a Mouthguard to Protect Your Teeth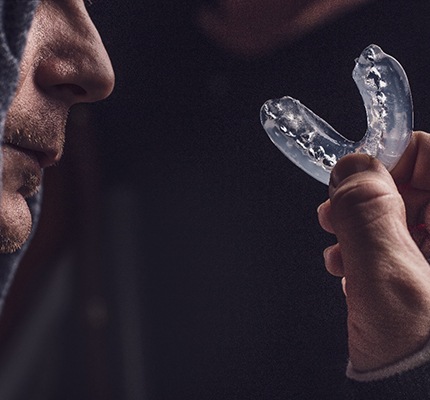 A customized mouthguard is a great investment. Whether you enjoy playing sports, going for a run, or tend to grind your teeth at night because of stress at work, these unique appliances will safeguard your teeth and soft oral tissues from serious damage. A forceful hit or excessive pressure can lead to mouth injuries that require the help of a trusted emergency dentist. Cracked, chipped, broken, or even knocked-out teeth need immediate restorative treatment, which can be costly and timely. However, with a custom mouthguard, you can lower your chances of serious injury and instead, feel confident that your smile is properly protected.
Use Tools to Open Packages, Not Your Teeth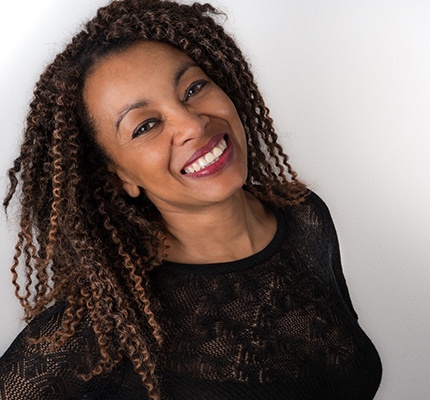 When you're eager to open a package you received in the mail, you may not prefer to spend time looking for a pair of scissors. Instead, you may choose to use your teeth to tear it open and see what is inside. While this process may be quicker, it's certainly not better for your oral health. This unhealthy choice can prolong your excitement if you suffer a soft tissue laceration or a chipped or broken tooth. It's better to take a few extra minutes to find the right tool for the job while leaving your pearly whites fully intact.
Dental Emergency FAQs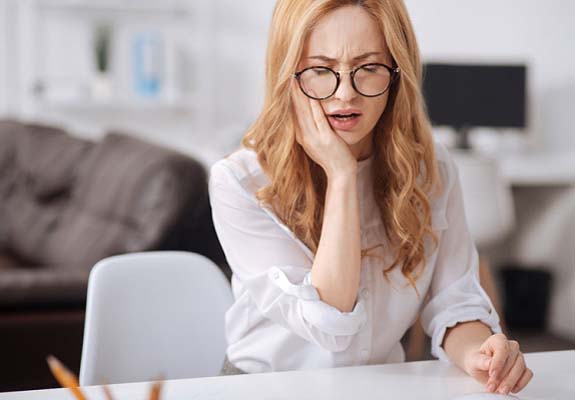 Dental emergencies never seem to happen at a convenient time, so it is perfectly understandable that you have some unanswered questions. Here are the answers to some of the most common queries we receive about dental emergencies in Fanwood. If you don't see the information that you're looking for below, don't worry! Give us a call , and our team would be happy to answer your questions and schedule you for a visit as soon as possible.
Will my toothache go away on its own?
No, toothaches don't generally go away on their own. Because of this, it is best to schedule a checkup with a dentist to ensure that nothing serious is going on. There are all sorts of potential causes for toothaches, and you'll want to rule them out with a professional as soon as possible. Doing this can help you to catch underlying problems before they become more severe.
How should I sleep with tooth pain?
When dealing with a toothache at night, it can be difficult to get some quality sleep until you're able to see your dentist in the morning. Try laying down with your head elevated. This will keep blood from rushing to your head and intensifying your toothache. Take over-the-counter pain relievers as needed and avoid foods that are particularly acidic, cold, or hard before bed for improved comfort. A cold compress can also help to dull some of the discomfort.
Should I visit the emergency room first for dental emergencies?
Most emergency rooms are unable to address dental emergencies effectively. However, there are three main exceptions. If you think that you have dislocated or fractured your jaw, have an abscess or infection that is swollen to the point of affecting your breathing or swallowing, or have a serious cut or laceration to the face, you should seek help from the emergency room. In virtually all other circumstances, you should visit a dentist first.
Can I pop a dental abscess on my own?
You should never attempt to pop a dental abscess on your own. Instead, always get in touch with a dentist as soon as you can, as an abscess is considered a dental emergency. Popping it will only expose your mouth to more bacteria and irritate the area more. Additionally, putting off treatment can allow the infection to spread within the mouth and to other areas of the body, therefore causing much more serious issues.