Emergency Dentistry – Fanwood, NJ
Fast Relief For Urgent Dental Pain
When you've broken one of your teeth or your child is complaining of a terrible toothache, the absolute last thing you want to do is spend time searching for an emergency dentist. Instead, a little preparation can help you get the fast and professional care you need as quickly as possible. Should you or a loved one ever need urgent dental care, be sure to call Scotch Plains Fanwood Dental Care. Our dentists have years of emergency experience, and our dental office is happy to schedule same-day appointments so hurting patients are able to get the relief they need without having to wait.
Why Choose Scotch Plains Fanwood Dental Care for Emergency Dentistry?
Same-Day Appointments & Walk-Ins Welcome
Happy to Accept All PPO Dental Insurance Plans
Skilled Team Who Can Treat Any Emergency In-House
How to Handle Common Dental Emergencies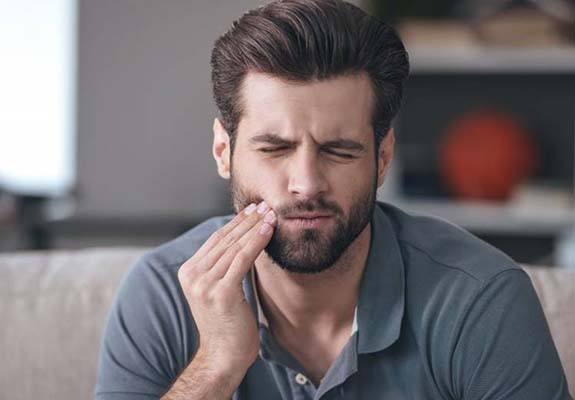 Dental emergencies tend to come in one of two unpleasant varieties. There are those that occur in an instant, like with a broken or knocked out tooth due to an accident, and those that take months to develop, such as with a severe toothache. In either scenario, seeking out professional care as quickly as possible is the best way to minimize pain as well as any damage to the smile. There are a few things you can do on your own, however, to help take control of a situation before you're able to reach our office:
Toothaches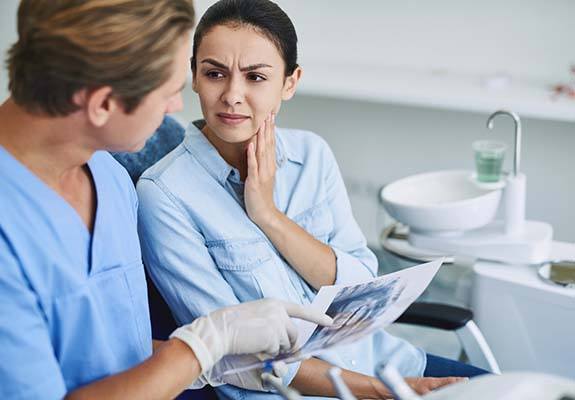 Toothaches can have a wide variety of causes, ranging from something simply being stuck in-between the teeth to a crack in the enamel to an advanced infection. OTC pain relievers can help take the edge off of any discomfort as can a cold compress applied to the face. In many cases, the best way to both stop the pain and save a tooth will involve root canal therapy.
Chipped/Broken Tooth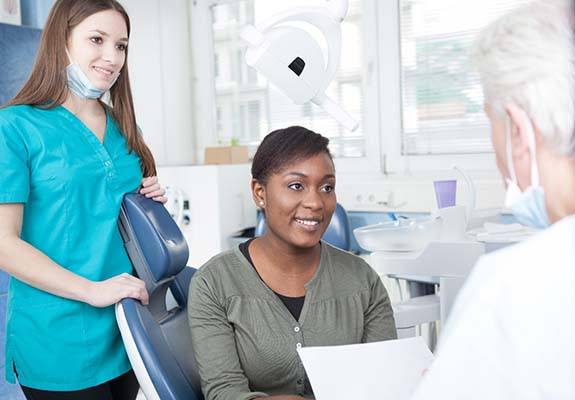 Start by gently rinsing the mouth with warm water to clean it, and then try to gather as many pieces of the tooth that you can. If the remaining tooth has a jagged edge, it should be covered with some sugarless gum or dental wax to prevent it from causing harm inside the mouth. While we can save most damaged teeth, in the most extreme situations, the best solution may be to simply extract one.
Knocked-Out Tooth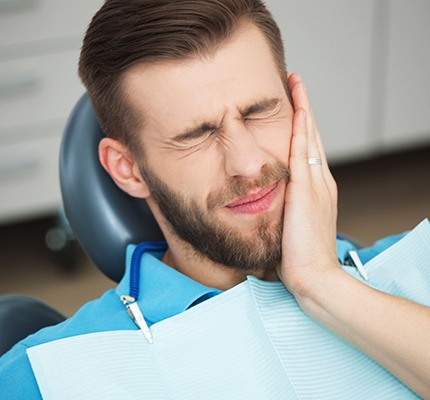 A knocked out tooth can be put back into place by our team, but only within an hour or so of the initial accident, so you need to move fast in this situation! Find the tooth, give it a quick rinse, and try to place it back into its socket, keeping it there by closing the mouth. If it won't stay, store the tooth in a container with either some milk or saltwater.
Lost Filling/Crown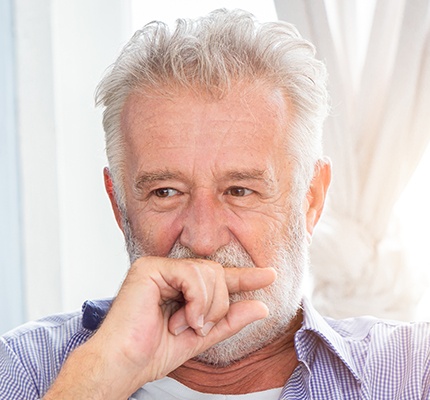 While a lost filling/crown isn't always a big cause for alarm, it's still smart to come see us right away to prevent the newly exposed tooth from developing any additional decay or damage. Find the restoration, clean off any debris, and try to place it back onto the tooth. Avoid chewing with it until we've had a chance to see you.
How to Prevent Dental Emergencies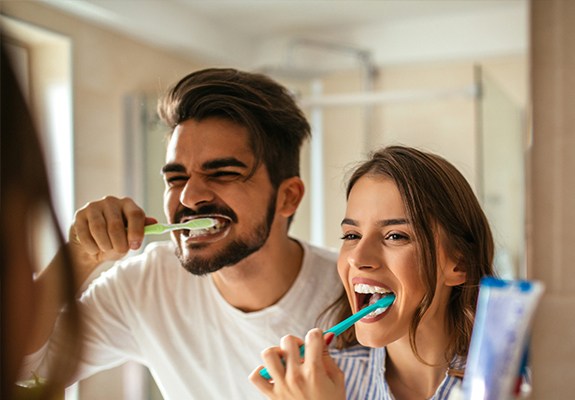 Thankfully, preventing most dental emergencies only requires that you and your family practice a few simple habits:
Enjoy playing sports? Make sure you wear a mouthguard regardless of your chosen game to keep your teeth protected from unexpected (or expected!) impacts.
Like to munch on ice? Don't! Your teeth are strong, but they're not indestructible. Regularly chewing on hard items like ice, pens, pencils, and fingernails can wear down the enamel to the point that it cracks.
Having trouble getting a package open? Instead of using your teeth and potentially chipping them, take a second to grab the scissors—your smile will thank you!
Keep up with your oral hygiene at home as well as your checkups and cleanings—consistent preventive care will stop those small problems that often turn into big emergencies later.
The Cost of Treating Dental Emergencies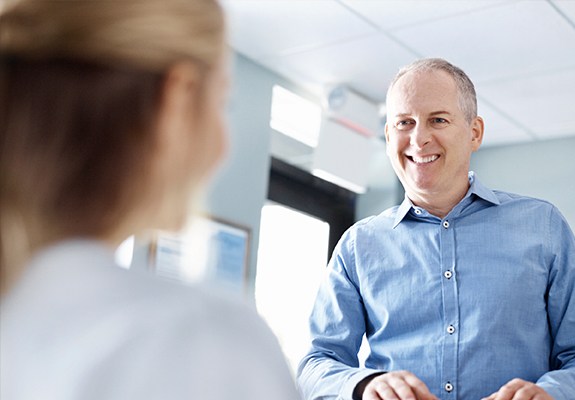 Every dental emergency is different, so the cost of urgent dental care is never the same from patient to patient. One person might just need a filling to fix a small cavity, while another may require multiple teeth to be removed and replaced. Our goal with every emergency patient is to get them out of pain as quickly as possible before repairing any damage to the smile. To help make emergency care more affordable, we accept all PPO dental insurance plans, offer flexible financing, and we even have our own in-house dental savings plan.
Root Canal Therapy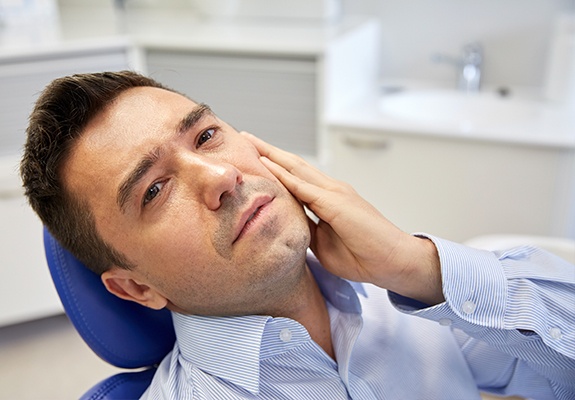 Many patients become nervous when the words "root canal" are mentioned, but this procedure is actually very comfortable and can even rescue heavily infected teeth from the treat of extraction! Our team will access the inner canal(s) and remove diseased pulp from within, replacing it with a biocompatible alternative before sealing the structure once more and rebuilding the full tooth with a custom-made crown.
Learn About Root Canal Therapy
Tooth Extractions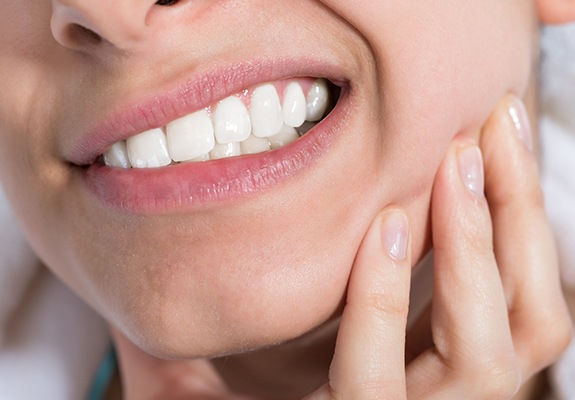 No one ever wants to have a natural tooth removed, but sometimes, this emergency service becomes necessary to protect the patient's continuing health and overall wellbeing. Here in Fanwood, you can trust in our experienced team to handle this procedure smoothly and comfortably. We'll also recommend high-quality tooth replacement options like dental implants if they are needed and help you minimize any time spent without a full, confident smile.