Dental Implants — Fanwood, NJ
Tooth Replacement for the 21st Century
Whenever a patient comes to our dental office hoping to replace their missing teeth, our dentists' first recommendation is always dental implants. Why? Because they simply offer the best solution every way you can imagine. They look natural, are unbelievably strong, and can easily last for decades with minimal maintenance. They are truly the gold standard when it comes to tooth replacement. Now, you can get them right at home at Scotch Plains Fanwood Dental Care.
Why Choose Scotch Plains Fanwood Dental Care for Dental Implants?
All-Inclusive Care: Placement and Dental Restoration Under 1 Roof
Dental Implants Can Replace Any Number of Teeth for Life
Sedation Dentistry Guarantees a Comfortable Dental Experience
What Are Dental Implants?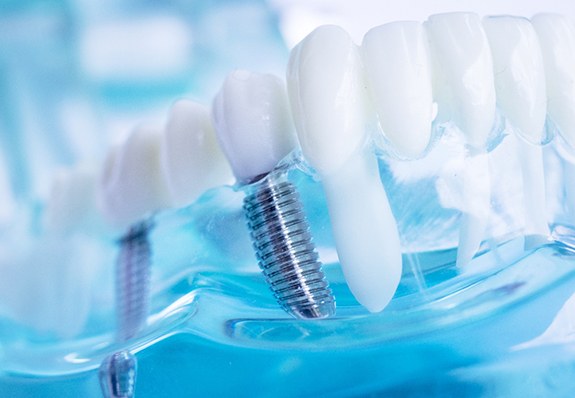 Dental implants can replace teeth from top-to-bottom, but that doesn't mean they come in one piece like natural teeth do. Instead of being made from enamel and pulp, dental implants consist of a titanium post, a restoration (which can be either a crown, bridge, or denture), and an abutment. The abutment is designed to attach the two components together and provide the restoration lasting stability.
Unlike other tooth replacement options, dental implants don't only look the part. In fact, they also feel nearly indistinguishable from natural teeth due to the implants integrating with the jawbone. It's one of the many reasons why dentists will often recommend them over more traditional solutions.
The 4 Step Dental Implant Process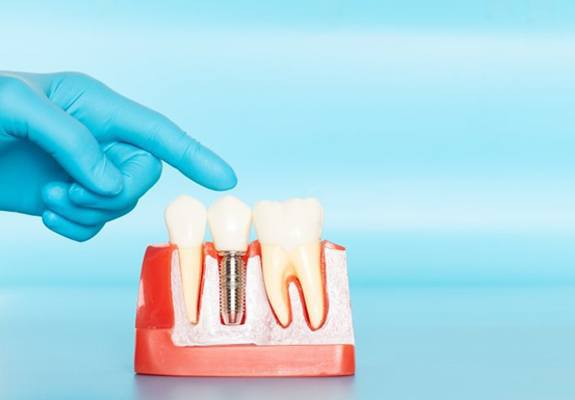 Dental implants are quickly becoming one of the most popular ways to replace missing teeth, and it's easy to see why! This modern restoration method offers functionality, comfort, and longevity that can't be matched by other more traditional options. To provide these benefits, dental implants require a unique, multistep procedure. We'll be more than happy to go over your personal treatment plan and any questions you may have during your first appointment. In the meantime, read on to learn how dental implants work!
Initial Consultation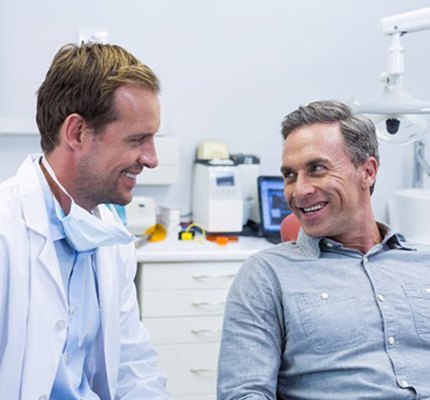 The first step on your journey towards permanently replacing missing teeth in your smile is to meet with your Fanwood implant dentist. After reviewing your medical history and going over your tooth replacement goals, we'll examine your oral health. Issues like tooth decay, gum disease, nightly teeth grinding, and low jawbone density can potentially threaten the success of your dental implants. Once your oral health is on track, we can move on to the next step of the dental implant process.
Dental Implant Surgery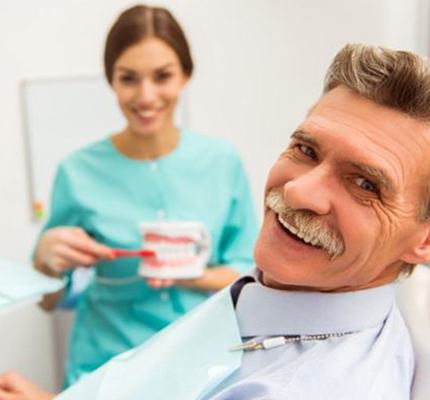 Thanks to the advanced training and experience of our dental professionals, every step of the dental implant process can be performed right here in our practice. Not only will you feel more at-ease working with a dental team you already know and trust, but we'll be able to personally ensure your dental implant placement is as comfortable and smooth as possible.
Once you're completely comfortable with the help of anesthesia or sedation, we'll carefully insert several small titanium posts into your jawbone. These posts mimic the roots of your missing teeth and will eventually anchor your restoration firmly in place. Once they've been placed, your gums will be sutured closed and the healing process will begin.
Osseointegration & Abutment Placement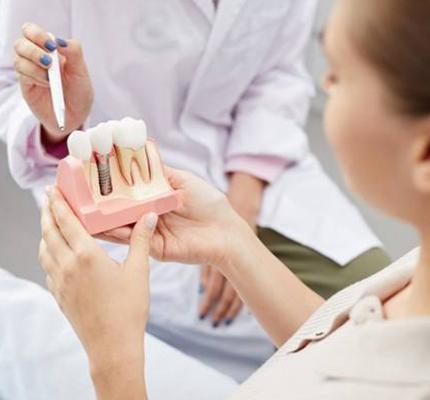 Over time, the titanium posts will fuse with your jawbone in a process called osteointegration. While it will typically take several months for your mouth to heal, the end result is a firm foundation that provides a lifelike look, feel, and function that can't be achieved with traditional dentures or dental bridges. What's more, the posts stimulate blood flow in your jawbone, which prevents deterioration.
After several months, you'll return to our office for the next step of the dental implant process. During this appointment, we'll numb your mouth and open the gum tissue just above your dental implant. Then, a small connector piece called an abutment will be attached to the top of the post. It will take just a few weeks for your gums to heal, then you'll be ready for the final step in completing your new smile.
Delivery of Final Restoration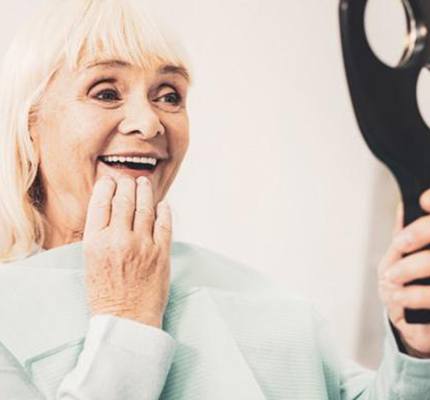 Once we've received your custom-made dental crown, bridge, or denture, you'll return to our office. Your new restoration will be attached to the abutment to become a seamless, beautiful, and permanent addition to your pearly whites! Once we've made any small adjustments and ensured your bite is comfortable, you'll be ready to start enjoying your newly rebuilt smile!
While getting dental implants may take more initial time and effort than other tooth replacement options, the results are well worth the effort. With the proper care, you can easily expect your new smile to last a lifetime!
Benefits of Dental Implants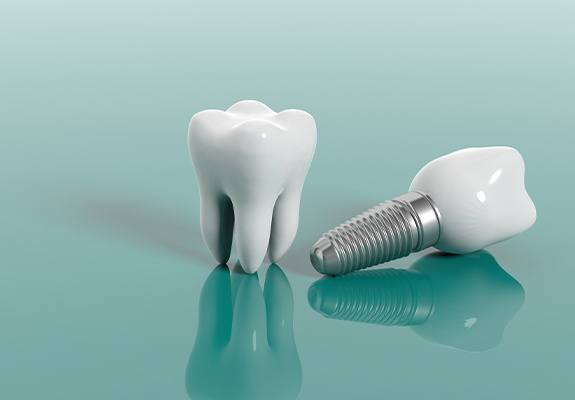 Ready for a solution that offers far more than traditional dentures or dental bridges? If so, you'll be pleased with the many benefits of dental implants in Fanwood. As a safe and reliable alternative to regular prosthetics, these are permanent when put into place and allow for greater functionality when eating, speaking, and smiling. Not only can you expect to live a fuller and more enjoyable life, but you'll once again feel more confident in yourself and your appearance. At Scotch Plains Fanwood Dental Care, we want to help you feel better about your smile, so contact us with any questions you might have about dental implants.
Day-to-Day Benefits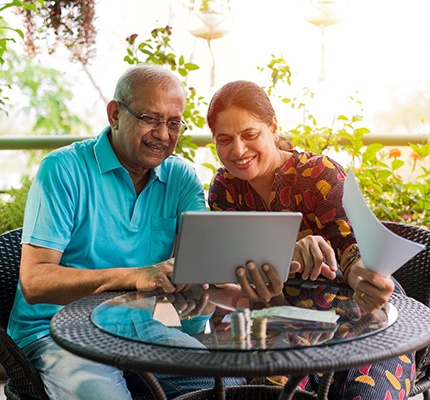 Maintaining better oral health is easier with dental implants. Instead of taking out your teeth to soak them at night, you can keep your implants in and clean them just like you do your natural, healthy teeth.
Because dental implants are always topped with custom-made restorations and don't require any additional attachments to stay in place, they have a natural appearance that other restorations simply can't match.
If you miss eating all your favorite foods, you can now be free to consume healthy and nutritious meals with greater ease. No more missing teeth to make eating even harder, and no traditional prosthetics that might slip or fall out. Instead, your dental implants will remain firmly in place, allowing you to eat without worry.
Embracing a better quality of life is possible with dental implants in Fanwood. With 10% of denture-wearers admitting their love life suffers as a result of their prosthetic, this doesn't have to be a problem for you. You can be confident when meeting new people because your implants will look and feel completely natural.
Health Benefits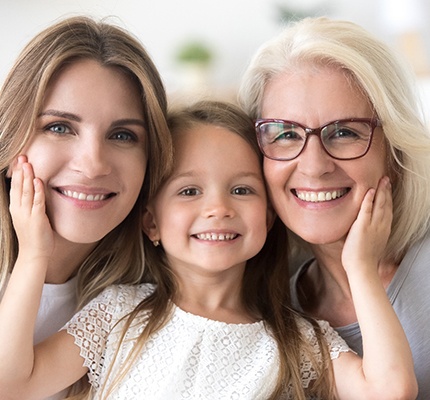 Dental drift is no longer a concern with dental implants simply because they help to keep your regular teeth in their upright position. This significantly lowers the possibility of orthodontic treatment later on.
Unlike with traditional bridges and dentures, remaining healthy teeth don't have to be altered at all when implants are placed, leaving the rest of the smile untouched.
It is believed that individuals over the age of 65 with 5 or more missing teeth are at a greater risk for systemic issues like osteoporosis, diabetes, and heart disease. If you want to extend your lifespan, keep more money in your pocket, and live life without undergoing constant treatment, it's time to have your teeth replaced with dental implants.
With a dental implant, a small titanium post is placed into the jawbone to create a prosthetic tooth root. This provides a stable foundation for a crown, bridge, or denture, meaning a patient never has to worry about their new teeth shifting or breaking unexpectedly.
Long-Term Benefits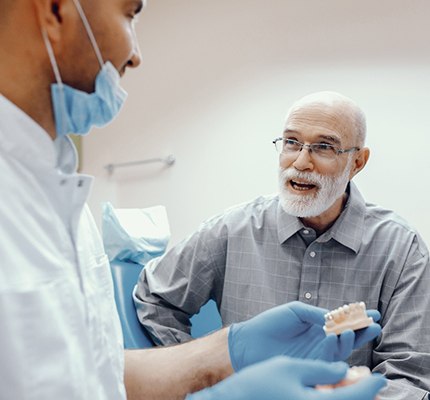 When put into place by a trusted and skilled implant dentist in Fanwood, dental implants are successful for 95-98% of patients.
With standard oral hygiene, a dental implant can easily last for about 30 years or more.
The savings you'll achieve with dental implants is much more than you might originally think. Although costly upfront, you will not have to buy dental adhesives, special cleaning supplies, or regularly see your dentist for an adjustment or replacement every 5-7 years as you do with dentures or a dental bridge.
Who Dental Implants Can Help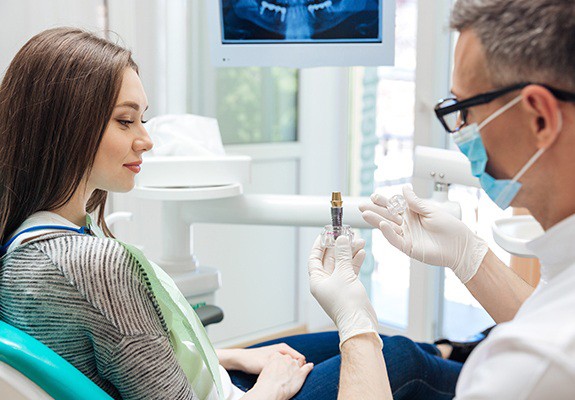 Thanks to their versatility, dental implants can be used to help patients missing any number of teeth. After confirming that a patient has good dental health and enough strong jawbone to support the new roots, our dental implant dentist in Fanwood will help them choose from one of the following restorative options: a dental crown, implant bridge (or partial denture), or a full implant denture. Even if an individual is not ready to receive dental implants during their initial consultation, our team will recommend the appropriate preliminary treatments to ensure successful placement later on.
Who is a Good Candidate for Dental Implants?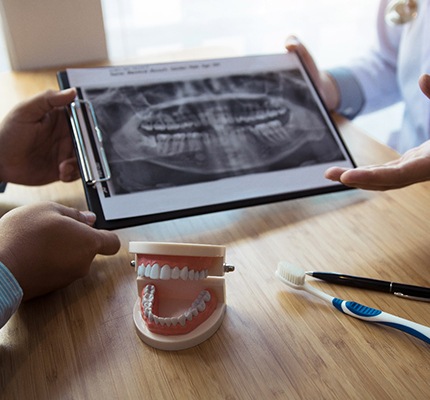 When considering dental implants in Fanwood to replace your missing teeth, you might assume there is no way you'll be eligible for treatment. Since most adults experiencing tooth loss are, indeed, qualified candidates, our team will perform a thorough examination of your oral cavity and facial structure to determine if you are free to move forward with surgery or if you need additional treatments first. When looking at your smile, we will consider the following factors:
If you have enough jawbone to support your dental implants and future restoration. If not, you will need a bone graft or sinus lift.
If you show any signs of tooth decay or gum disease, as this will require periodontal therapy or potential tooth extraction.
If you are healthy enough to undergo minor oral surgery or have a condition that weakens your immune system and could cause dental implant failure.
Dental implants are one of the most versatile tooth replacement solutions available. Capable of treating all types of tooth loss, here are the three scenarios your dentist can help you address:
Missing 1 Tooth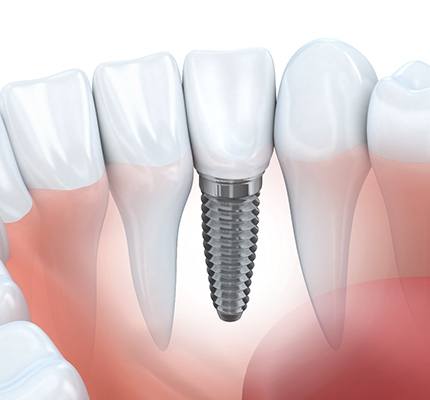 A dental implant root can be used to support a single crown that is placed between two healthy teeth without them needing to be adjusted at all. Whether it's a front tooth or one in the back, an implant can still provide a reliable solution. This is why more than 3 million people in the United States are already living with dental implants. They are proven effective and can last 30 years or longer with proper care and maintenance. Not to mention, they can give you back your oral health and help you to embrace a better quality of life.
Missing Multiple Teeth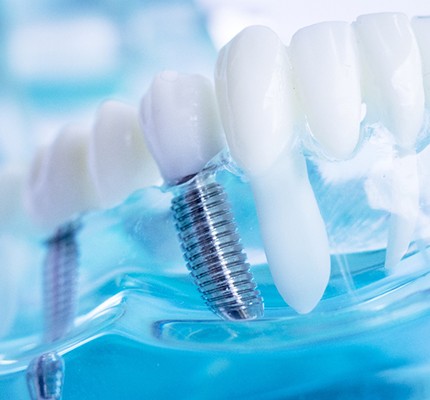 Bridges and partial dentures can be secured within the mouth using just a small number of implant roots. Compared to traditional removable prosthetics, implants not only have a stronger hold, but they can be trusted to last much longer as well. If you are missing multiple consecutive teeth, you can count on us to provide an implant bridge that only needs two dental implants. If your teeth are not consecutively missing, we will use the appropriate number of titanium posts to uphold a fully functional implant denture.
Missing All Teeth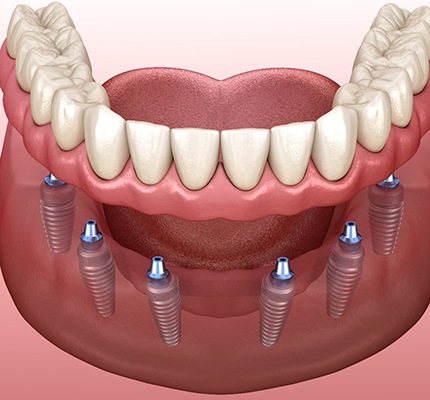 All it takes is just four to six dental implants to anchor a full denture that restores an entire row of teeth at the same time. Implant dentures are smaller and leave more room in the mouth compared to regular ones, creating a more comfortable fit. They also bring back much more of a patient's bite strength, enabling them to enjoy a wider variety of foods. With implant dentures, your jawbone will remain stimulated, lowering your risk for bone shrinkage, which is common among individuals who wear traditional dentures.
Maintaining & Caring For Your Dental Implants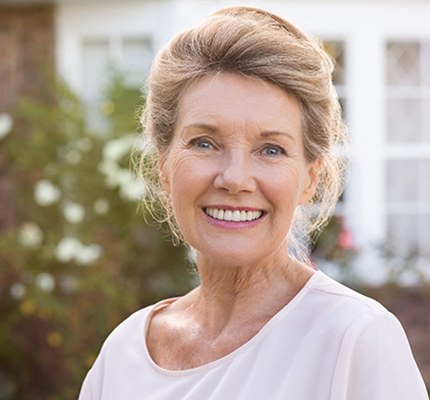 Do you know the proper way to care for your dental implants? If you want to make sure they maintain a success rate of 90-95% 10 years after initial placement, you'll need to take the appropriate steps to keep your new teeth firmly in place and looking their best. Fortunately, at Scotch Plains Fanwood Dental Care, our team of experts can provide you with the tools and instructions needed to ensure optimal dental implant care in Fanwood. With a proactive approach and committed demeanor, you can be like one of the millions of individuals are who enjoying and embracing the many benefits dental implants have to offer.
A few helpful tips to maintain your new prosthetics include:
Make Oral Hygiene a Priority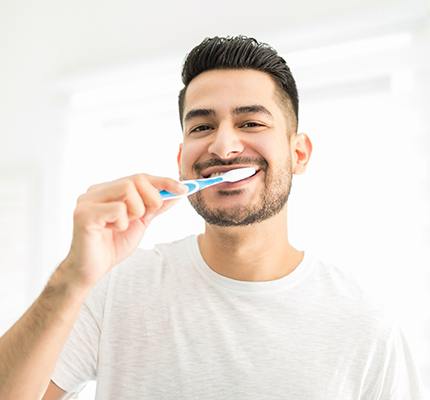 You will need to brush, floss, and rinse daily to remove bad bacteria and harmful acids from your teeth. While your dental implants in Fanwood cannot decay, your natural teeth can still be vulnerable to cavities, which is why you'll want to stay on top of your oral hygiene routine. Should you develop tooth decay or gum disease, it can spread to nearby teeth and cause problems with your oral and overall health.
Eat a Healthy Diet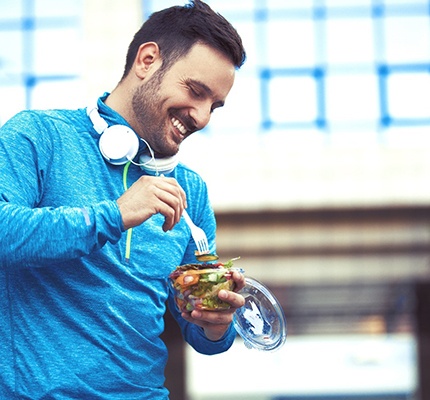 Although your implant dentist in Fanwood isn't saying you can't enjoy a slice of pie or a few potato chips now and then, it's best to minimize your intake of these specific items. Too much sugar or starch in your diet can lead to serious oral health concerns that can negatively impact your smile, including your implants. By making the switch to healthier alternatives like fruits and vegetables, leafy greens, and lean protein, you can not only safeguard your heart, brain, and waistline but also your real and artificial teeth.
Break Bad Habits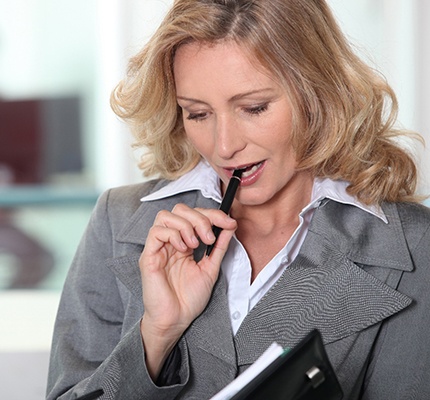 If chewing on pens, smoking, eating ice, or biting your nails are how you relieve stress, it's time to look at other avenues. All these bad habits can lead to the destruction of your dental implants. Breaks, chips, and fractures can occur, resulting in a trip to your emergency dentist and the potential for more timely and costly treatments to fix your smile. It is best to break these bad habits long before you have your implants put into place. If you find the temptation too strong, try keeping sugar-free gum in your pocket or drawn when tempting to reach for your nails or inanimate objects. Also, seek cessation resources to help you quit smoking once and for all.
Protect our Dental Implants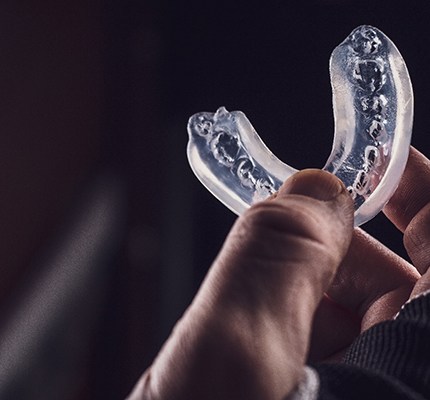 Dental implants are highly durable, which is a relief; however, they can suffer breaks and chips if you're not careful. If you enjoy playing sports or are prone to grinding your teeth at night, make sure you inquire about a customized mouthguard. These oral devices can better protect your real teeth and dental implants from hard-hitting tackles, a sudden fall on the track, or excessive wear and tear to your tooth enamel while you sleep.
Schedule Regular Dental Checkups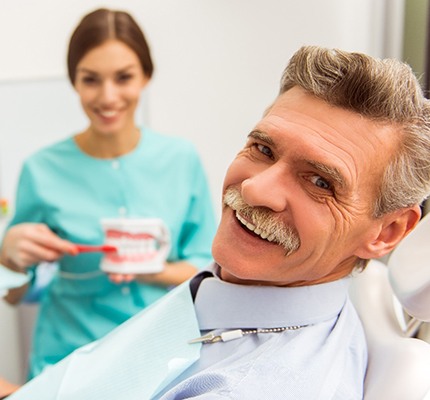 A final key component to maintaining and caring for your dental implants is continuing to see your implant dentist in Fanwood every six months. Unless otherwise instructed, you will need to maintain twice-yearly visits to allow our team to review your smile in its entirety and make sure no minor problems are occurring throughout your oral cavity. Being able to check your soft tissues, real teeth, and dental implants, we can monitor the status of your prosthetics and make any necessary adjustments should we find cause to do so.
Understanding the Cost of Dental Implants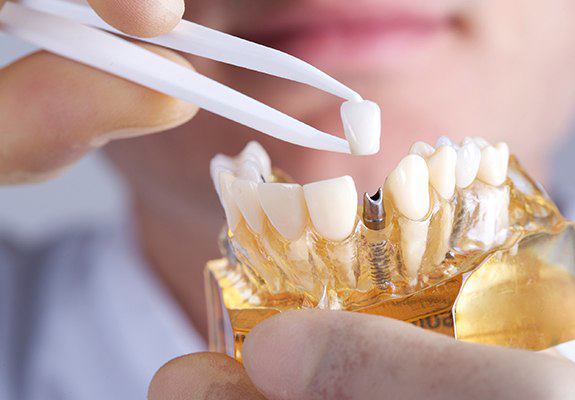 Every dental implant procedure is custom-designed by our dental team based on the unique needs of a patient, and because of this, the cost of the treatment can vary quite a bit from person to person. Everything from the number of implants needed to the type of restoration used can affect the final price. While dental implants do tend to cost more upfront compared to regular bridges and dentures, they are an investment that can be expected to last for decades. Compared to the typical five to seven year lifespan of traditional replacements, implants can often endure for 30 years or more, which actually helps patients save money over time.
Preliminary Treatments & Dental Implant Surgery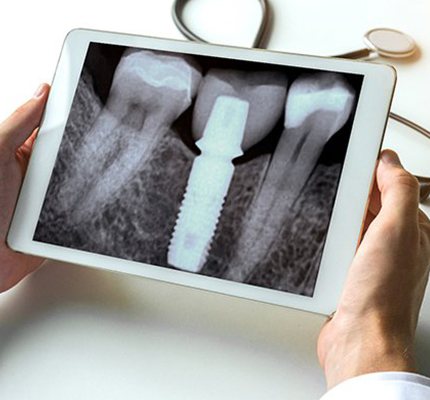 Because the dental implant process takes multiple appointments that are spread out over the course of several months, you can pay for each procedure as it comes, rather than all at once. After your consultation, here are some of the stages of the process, each of which incur their own unique cost:
Preparatory work, such as bone grafting, sinus lifts, or gum disease therapy
Implant placement surgery
Placement of abutments (metal pieces that connect the implant to the restoration)
Design and placement of your personalized restoration
The Parts & Type of Your Dental Implant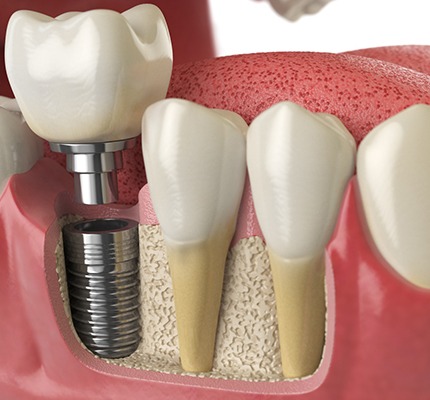 One of the main aspects affecting the price of your dental implants is the number of titanium posts you'll need for a complete smile. Depending on how many pearly whites you're missing, we may place a single implant that supports a dental crown, two implants securing a bridge, or four to eight implants to anchor a full denture. Unsurprisingly, the more implants you need to retain your restoration, the higher your cost will be. During your consultation, your implant dentist will take detailed X-rays to determine how many implants you'll require to fully rebuild your smile.
Do Dental Implants Pay for Themselves in the Long Run?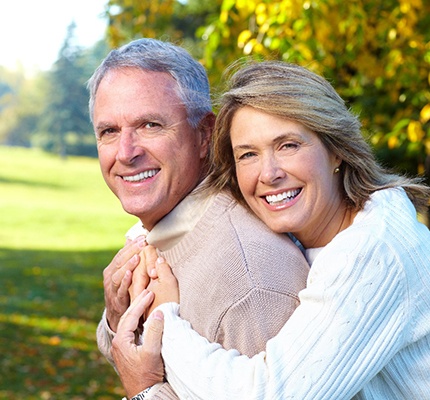 Absolutely! Patients and dental professionals both agree that dental implants are one of the most worthwhile investments you can make in your smile and oral health. They can potentially last for three whole decades. That's much longer than traditional dentures or bridges – you'll save time and money in the long run that you would otherwise spend on repairs and replacements. Dental implants are also much sturdier, as they don't require adhesive or the support of surrounding teeth to stay in place. This allows you to enjoy all of your favorite crunchy or chewy foods with ease.
Does My Dental Insurance Cover Dental Implants?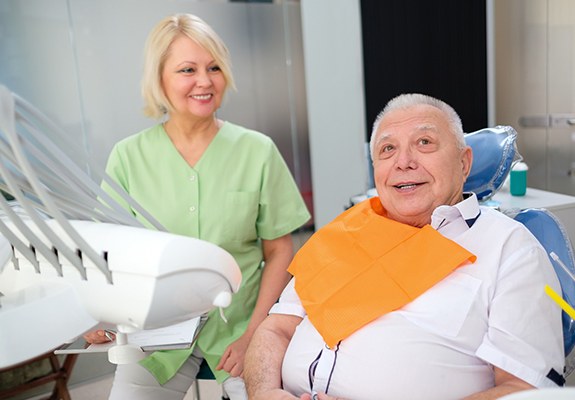 More and more dental insurance companies are beginning to see the benefits that implants offer, which is why they are starting to cover some of the cost. However, don't expect any coverage before letting our skilled and friendly team evaluate your policy. If you still need help financing your new smile, ask about our In-House Dental Plan. For one flat annual fee, you can receive considerable discounts on most of our services as well as FREE preventive care without worrying about deductibles, waiting periods, or annual maximums.
Advanced Dental Implant Procedures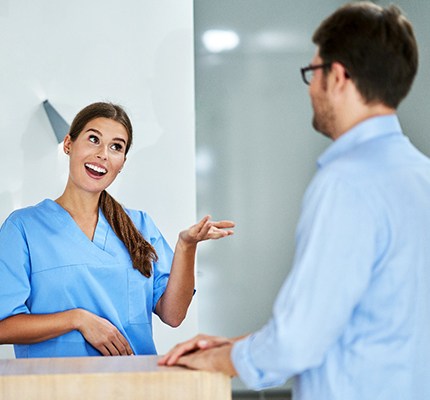 Thanks to their unique placement in the jawbone, dental implants have the potential to replace your missing teeth for a lifetime! However, if your jawbone has lost its density or if your sinuses are too close, you may need some preliminary treatments before you can be considered a good candidate for dental implants. When it comes to preparing your smile for successful tooth replacement, we offer advanced procedures like bone grafting and sinus lifts that can help.
Bone Grafting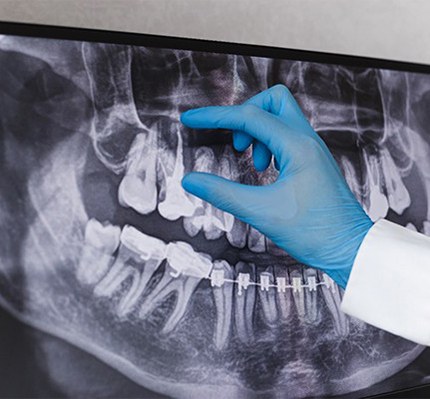 Dental implants boast an astonishing success rate of over 95%, even 10 years after placement! This is largely thanks to how dental implants replace missing teeth both above and below the gumline. The titanium implant posts that are surgically placed into the jawbone act like the roots of your missing teeth. Not only does this provide a rock-solid foundation for your new smile, but it stimulates blood flow in the jawbone, preventing deterioration.
However, this reliable foundation can only form if your jaw has enough bone tissue for the implant posts to fuse with. Without adequate bone density, your jaw won't be able to support your new teeth as you chew and talk. Thankfully, bone grafting can enhance the thickness of your jawbone. This procedure works by taking bone tissue (either from another part of your body or a donor) and transferring it to the area of your jaw that needs to be denser. As the grafted bone tissue integrates with your jawbone, it will encourage new growth in the area and strengthen it.
In some cases, you may be able to have your dental implants placed right after your bone grafting, while other times you'll need to wait a few months for your mouth to fully heal first. It's natural to experience some discomfort for a few days after your surgery, but it should be easily managed with over-the-counter pain relievers and ice bags.
Sinus Lift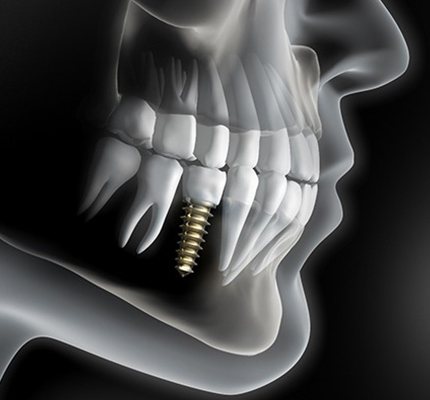 If your upper jaw has experienced bone loss, there may not be enough bone tissue in certain areas to place implant posts without them poking into the sinus cavities. A sinus lift is a specific type of bone grafting that can help avoid this problem. First, an incision is made in the gums and the membrane that protects the sinuses is gently pushed up. Then, we'll add the grafting material to thicken the area and keep the sinuses away from where the implants need to be placed. Once your gums are sutured closed, you'll usually need to wait several months for your jaw to heal and more bone tissue to grow before we place your dental implants.
Whether you need simple treatments like fillings or periodontal therapy, or a more complex procedure like bone grafting or a sinus lift, we will be happy to help get you ready for your brand-new smile.
Dental Implant FAQs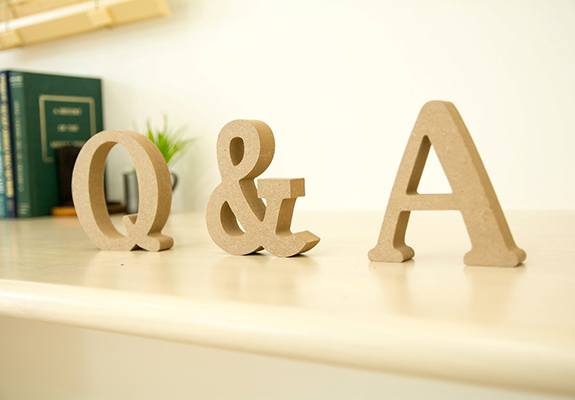 Whether you're missing teeth yourself or you have a family member who's been missing teeth for years and you want to lend them a hand, Scotch Plains Fanwood Dental Care is happy to answer any and all of your questions. We want you to be as informed as possible when it comes to your future tooth replacement, especially when considering long-term solutions like dental implants. If you have a question, please give our FAQ section a look below ahead of your appointment as we may already have the answer you're looking for!
Does Getting Dental Implants Hurt?
Ahead of your surgery, our dentists will administer a local anesthetic into the treatment area to ensure no sensations are felt during the procedure. Not only does the jawbone not have any nerve endings to begin with (meaning you wouldn't feel the implant being placed regardless) but at most you'll experience light pressure during the course of your treatment. If you'd prefer, you may also receive sedation ahead of time, making your experience even more relaxing. With that said, your mouth may feel a little sore afterwards. This can be managed with medication and cold compresses and should improve over the next few days.
Are Dental Implants Safe?
If you have good oral and overall health, dental implants are extremely successful when placed by a trained and qualified professional. Even if you have low jawbone density, these issues can be resolved ahead of your implant procedure. For example, a bone graft can be performed to expand the volume of your jawbone. However, if you have conditions that could increase the risk for implant failure, including unmanaged diabetes or cancer, we'll make sure to discuss these concerns with you during your consultation.
How Long Does It Take to Recover from Dental Implant Surgery?
The day after your surgery, it's not uncommon for people to resume their normal activities. However, we do advise against any strenuous exercise for the first week of healing as this could impede the implant's ability to integrate with the bone. Any bleeding should stop after the first 48 hours or so and swelling should go down after a few days. We advise that you take any prescribed medications as directed. Keep in mind that the integration process can take as long as six months to finish.
Am I Too Old to Get Dental Implants?
There is no age cap when it comes to dental implants. We do need to make sure that there are no other health concerns that could prevent a successful dental implant placement and recovery as older folks tend to have more issues than younger patients. We'll make sure to discuss all risks and expectations during the consultation portion of your appointment.
How Soon After a Tooth Extraction Can I Get Dental Implants?
If the jawbone is healthy, our dentists may be able to perform the placement phase of your implant the same day as your tooth extraction. Traditionally, we would place a bone graft and give it several months to fuse with your jaw before placing an implant. However, we don't want to wait too long to place an implant following an extraction as the jawbone can shrink due to lack of stimulation. We'll create a treatment plan based on your specific case and discuss it with you directly so you know exactly what to expect.
The answer will depend on the specifics of your case, which your dentist will discuss with you.