Root Canal Therapy – Fanwood, NJ
Pain Relief That is Nothing to Fear
To put it lightly, root canal therapy has a terrible reputation. This is in light of the fact that this procedure is actually one of the best treatments for stopping severe dental pain, not causing it! Thanks to our advanced techniques and tools, this often-feared treatment is now safe, reliable, and comfortable for every single patient. If you have a hurting tooth that just doesn't seem to be getting any better, it might be exactly what you need to finally enjoy complete relief.
Why Choose Scotch Plains Fanwood Dental Care for Root Canal Therapy?
Patient Comfort is Our Top Priority
Same-Day Appointments Available for Patients in Pain
Sedation Dentistry Helps Make Every Patient Comfortable
How Root Canals Actually Work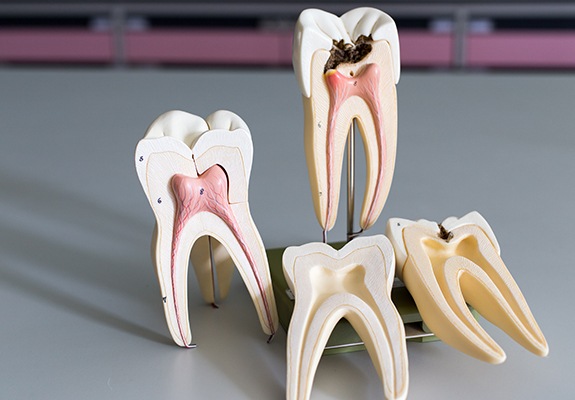 Your teeth are actually composed of three distinct layers: enamel on the outside, followed by a layer of dentin, and within that is a small bit of soft tissue called the dental pulp. Among other things, this contains the sensitive nerve of a tooth, and when exposed to bacteria, it can develop an infection that causes quite a bit of pain. Thankfully, root canal therapy is specifically designed to handle this kind of problem.
Our dentists will start by numbing a patient, and then they'll create a small hole in the tooth so they can remove the infected pulp. They'll then clean the interior of the tooth before filling it and repairing it further with a dental crown at a follow-up visit. Most patients compare the experience to getting a small filling, which is to say not painful at all!