Traditional Braces – Fanwood, NJ
Straightening Smiles for Patients of All Ages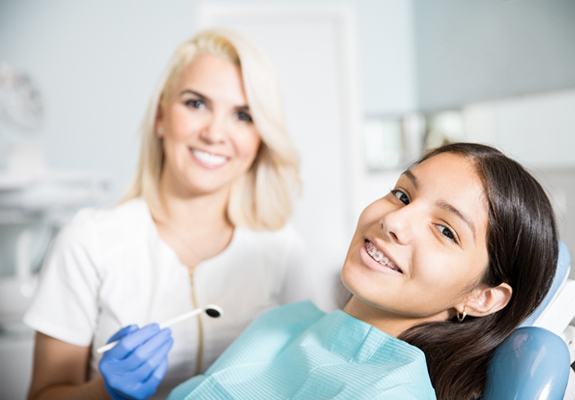 Have you just learned it is time to receive braces in Fanwood? Although it's often considered a familiar rite of passage for most teens, getting braces doesn't and shouldn't have to be a daunting or worrisome experience for people of any age. Gone are the days of bulky metal and wires! Now, you can enjoy the process of achieving straighter teeth with a solution that offers smaller brackets and wires, providing a much more subtle appearance. If you are ready to take the next step, contact our office and let Dr. Osman discuss your own personalized treatment plan.
Why Choose Scotch Plains Fanwood Dental Care for Traditional Braces?
Customized Treatment for All Ages
More Subtle Appearance Than Bulky Braces
Dependable And Affordable at Straightening Teeth
How Do Traditional Braces Work?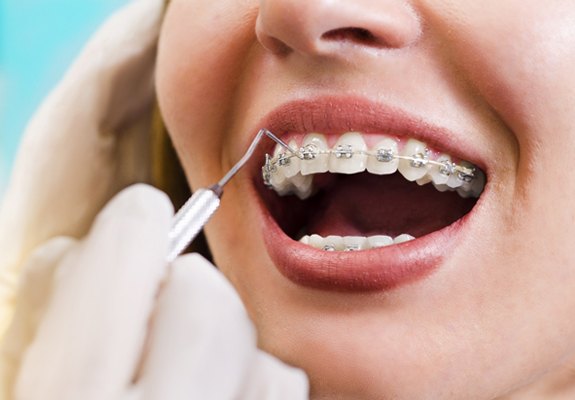 Braces are composed of three main parts: brackets, wire, and elastic rubber bands. During your appointment, your dentist in Fanwood will place the brackets on your teeth using a special bonding agent. This will prevent them from easily falling off. Then, a wire is threaded through each bracket and snapped into place. This puts an even amount of pressure on your teeth to help them move into the right position. At some point, during your treatment, you may be required to wear rubber bands to help align your upper and lower jaw. Not all patients need them, but some do.
Who Is a Good Candidate for Traditional Braces?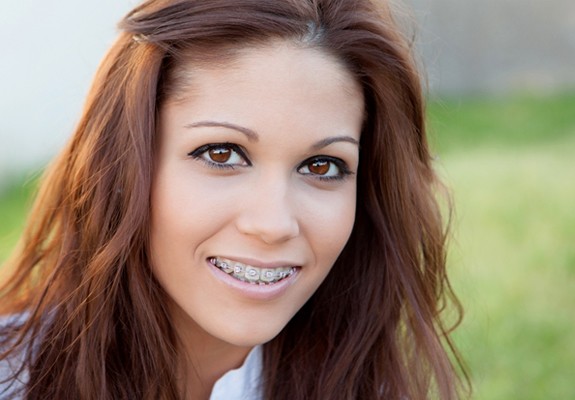 When it comes to determining who will benefit most from traditional braces, the answer is anyone of any age! While adults can opt for Invisalign, children, teenagers, and even adults can wear traditional braces and achieve long-lasting, beautiful results.
What Orthodontic Issues Can Braces Fix?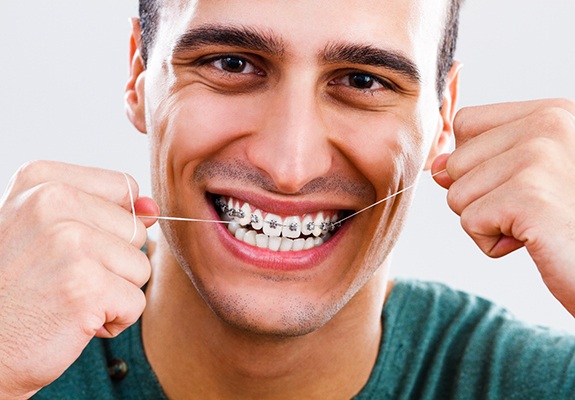 Before moving forward with orthodontic treatment, you'll need to attend a consultation with our team to determine exactly how traditional braces can benefit your smile. This tried-and-true method can be used to address multiple orthodontic issues, such as:
Bite Misalignment
If you have an overbite, underbite, or crossbite, traditional braces can help! It's important to fix these issues as soon as possible to avoid complications like TMJ disorder and bruxism (chronic teeth grinding). With braces, you can correct your bite and improve your chewing and speech patterns.
Crowded & Crooked Teeth
When teeth do not have enough room inside the mouth, they can become crooked and overlapping. Not only can this take a toll on your self-esteem, but your chances of developing cavities are much higher. Luckily, traditional braces can ensure every single one of your teeth has plenty of breathing room.
Gapped Teeth
Having small gaps in your smile can be incredibly frustrating. They can negatively impact your appearance and easily trap excess food debris. Brackets and wires will use the exact pressure needed to close these gaps, correcting visual and functionality issues.
What Are the Benefits of Straighter Teeth?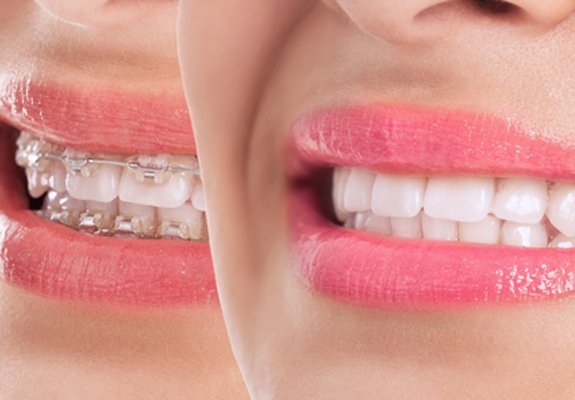 If you're struggling with the idea of having braces, consider the following benefits of having a straighter smile:
Improved Self-Confidence: Feel like you have to hide your face all the time because of your smile? Straighter teeth will give you the improved self-confidence and self-image you need.
Improved Oral Health: Straighter teeth are easier to clean, making it harder for bacteria and food particles to become trapped.
Prevents Periodontal Disease: If you have a problem with inflamed gums, straighter teeth will make it easier to keep those pearly whites clean and reduce the chance of developing periodontal disease, otherwise known as gum disease.
Helps with Wear and Tear: If it's more of an issue with bite alignment than crooked teeth, a misaligned bite can wreak havoc on your teeth and the average wear and tear. Wearing braces can fix this problem!
Caring for Your Braces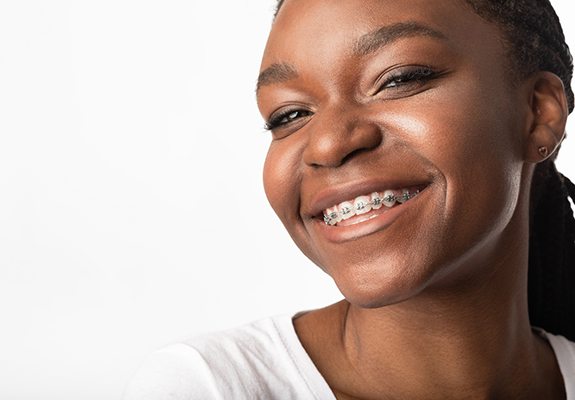 At the end of the day, the only way to ensure your braces successfully do their job is by taking proper care of them. You need to keep them clean and intact! Otherwise, a broken wire or loose bracket could delay your treatment timeline.
To help you out, here are some tips to consider when it comes to caring for your smile with braces:
Avoid problematic foods that are particularly hard, crunchy, or chewy
Wear a mouthguard to protect your pearly whites during sports and physical activity
Brush your teeth for two minutes after every meal and floss at least once a day
Attend your adjustment appointments as required to ensure your treatment is going according to plan
Understanding the Cost of Traditional Braces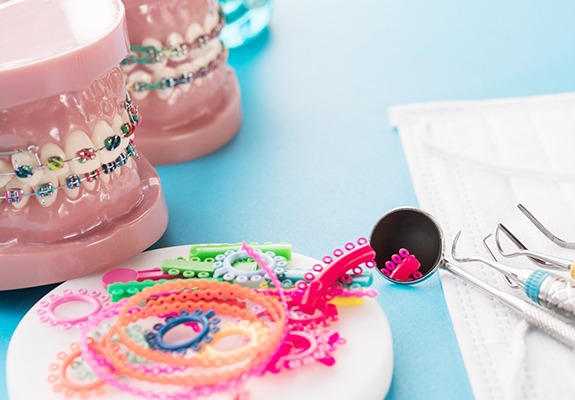 Getting braces doesn't have to be difficult or complicated. In fact, our team at Scotch Plains Fanwood Dental Care makes it as simple as possible. Our $4,900 comprehensive orthodontic treatment special includes braces or aligners, as well as everything else required throughout your journey towards a straighter smile! However, for more complex cases, we may recommend a detailed, specific treatment plan upon having an opportunity to examine your smile during your consultation.
Factors That Impact the Cost of Traditional Braces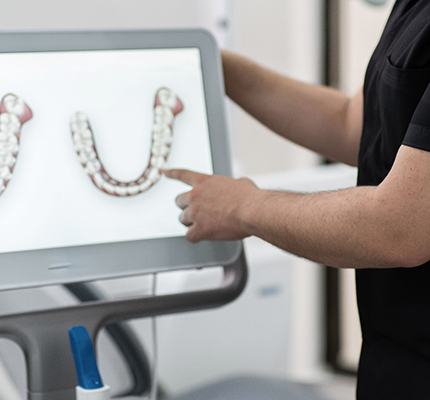 During your initial consultation, one of our experienced dentists in Fanwood will thoroughly examine your mouth and help you determine what orthodontic treatment method best fits your lifestyle and desires. They'll also outline several price-determining factors that will inform the cost of your treatment, including:
The complexity of your orthodontic issues.
If you need to straighten one or both arches.
The length of your treatment.
If you'll require accessories like elastics or headgear.
How many follow-up visits you'll require.
Your compliance with your treatment.
The Benefits of Choosing Professional Treatment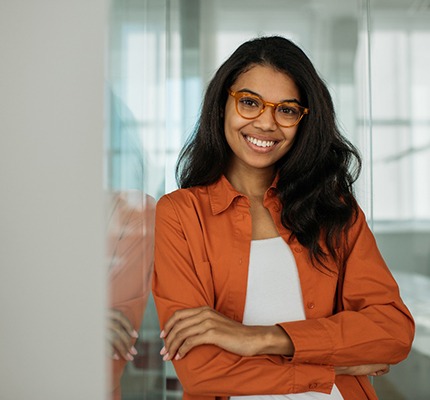 There are all different types of orthodontic options out there, from social media trends that claim you can create your own braces from household items to mail-in aligners. However, we don't recommend these methods of straightening your smile due to the immense risk of damage, pain, and severe orthodontic issues they present. The American Dental Association has also warned about the dangers of DIY treatments.
When you receive braces from our competent and knowledgeable team, you'll have a go-to expert you can reach out to whenever you have questions or concerns. We'll be right by your side through every step of your treatment, from the first day you have braces to the last!
Does Dental Insurance Cover Braces?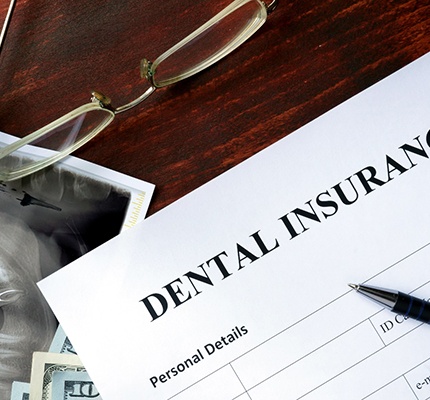 Not every dental insurance plan has the same coverage, so the best way to learn whether your benefits will cover the cost of traditional braces in Fanwood is to contact your provider directly. Our practice is proudly in-network with most major PPO plans, meaning we'll offer discounted rates and fees to minimize your out-of-pocket costs.
While some insurance plans cover traditional braces for teens, typically, you need to opt-in to receive orthodontic coverage for adults. If you have questions, our team will be happy to help!
Options for Making Braces More Affordable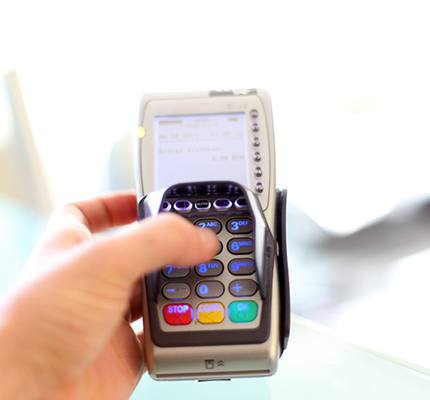 Getting braces is as easy as ever! Not only are we offering a comprehensive orthodontic treatment special for $4,900 for braces or aligners, but we also provide discounts through our in-house dental plan. For a flat fee, you'll not only be able to receive all of your basic dental care for the entire year, but also discounts on other services, like orthodontics!
Traditional Braces FAQs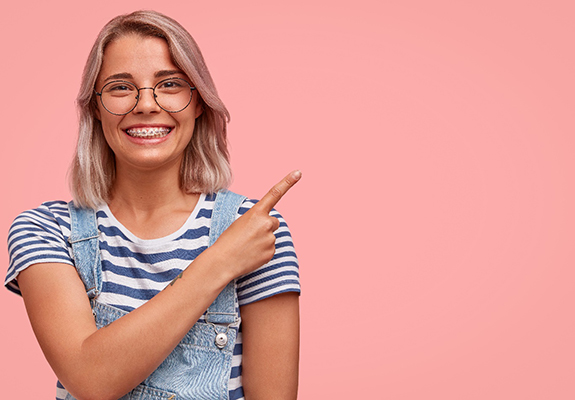 Whether you've already started your orthodontic treatment, you've just scheduled your consultation, or you're still in the process of researching braces, our Fanwood team is always here to answer any questions you have. After all, it can feel overwhelming trying to find the answers on your own! If you want to learn more about traditional braces, then we encourage you to give our team a call or read on to learn the answers to FAQs about this tried-and-true teeth-straightening treatment.
Do Traditional Braces Hurt?
As your teeth are guided into their properly aligned positions, you may experience some soreness. The good news is that this sensation is short-lived and typically only happens immediately after your adjustment appointments. Plus, there are several ways you can combat it, including taking an OTC pain reliever, not chewing anything crunchy, and placing a cold compress against the outside of your cheek for 10 minutes at a time.
How Long Do Traditional Braces Take?
In short, there isn't a one-size-fits-all answer. From the severity of your misalignment to how well you follow the treatment guidelines, there are several factors that directly impact the length of your treatment. With that said, patients typically wear the metal brackets and wires for anywhere from one to three years. To prevent any delays, we encourage our patients to implement a solid oral hygiene routine, abide by the dietary restrictions, and prioritize your follow-up appointments with our team.
What Can You Not Eat with Traditional Braces?
At first, having to avoid certain foods can seem like an annoyance more than anything. However, the dietary restrictions are in place to help prevent a stressful (and potentially painful) orthodontic emergency, like a broken or loose bracket.
The general rule-of-thumb is to avoid crunchy, hard, and sticky foods. A few examples include raw nuts, tortilla chips, caramel, popcorn, and taco shells. Even certain fruits and vegetables should be avoided, like carrots and apples, unless you cut them into smaller pieces first.
Can You Drink Coffee with Traditional Braces?
Don't worry – you won't have to give up coffee during your orthodontic treatment. We do recommend taking a few proactive measures to prevent dental discoloration. After all, a portion of your teeth is covered by the brackets! This can result in unsightly, uneven stains that take a toll on your self-esteem. So, make sure to always use a straw, rinse your mouth thoroughly with water after, and brush your teeth about 20 minutes later.
What Happens After You Get Your Braces Off?
Years prior, patients were encouraged to wear their retainers for a year or so after their orthodontic treatment. However, nearly 50% of patients experienced orthodontic relapse. As a result, patients are now encouraged to make wearing their retainer a life-long habit. It's the best way to preserve your results and protect your investment!