Dentures – Fanwood, NJ
Giving Patients Complete Smiles Once Again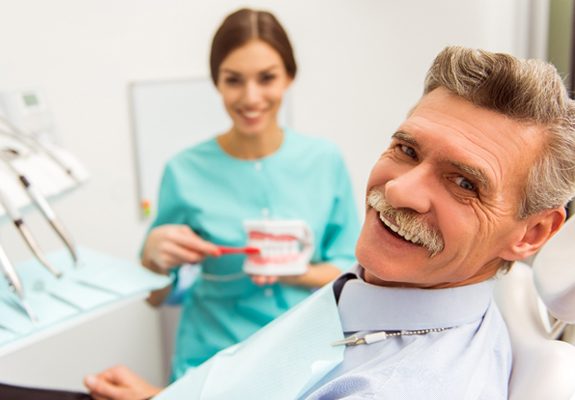 Traditional dentures have come a long way. Dr. Osman at Scotch Plains Fanwood Dental Care understands just how difficult it can be to go through life with missing teeth and at no point does he want any of his patients to feel embarrassed by an incomplete smile. With dentures in Fanwood, their durability and natural look can give patients a complete smile once again. Don't continue to move through life with a tight-lipped smile. Call our office to schedule a consultation with Dr. Osman today.
What Are Dentures?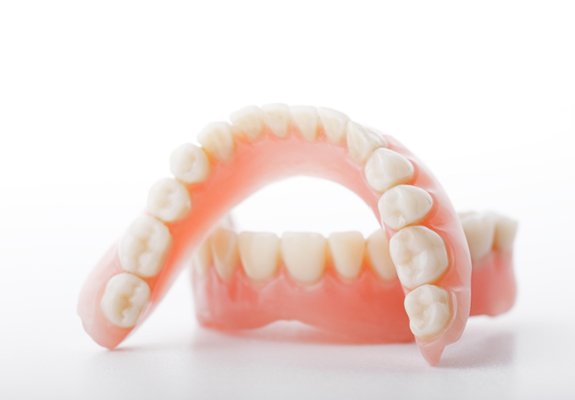 Dentures are a customizable prosthetic that replaces all the teeth along a patient's top or bottom row. Created to look completely natural, they can be removable (traditional dentures) or permanently fixed within a patient's mouth (implant-retained dentures).
Advancements in dentistry have made it possible for patients to actually enjoy living with dentures. Before, the materials used made it difficult to adjust to these prosthetics; however, patients will now experience a much more enjoyable fit.
Types of Dentures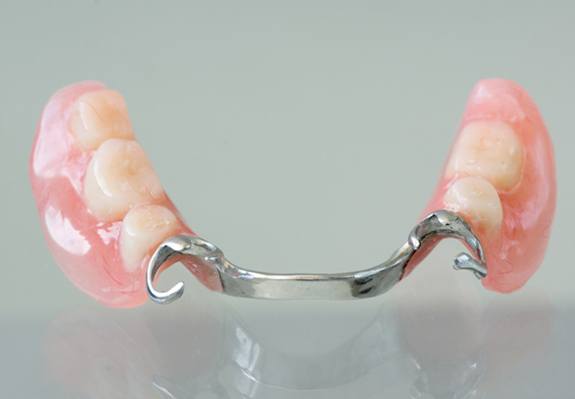 Whether you need a full arch of teeth replaced or just a few along the same row, there are two different options available: partial dentures or full dentures.
Partial Dentures
Even a few missing teeth can make it unbearable to smile. If you're seeing a tooth here and a tooth there, the feeling of embarrassment can be overwhelming. Thankfully, a partial denture can restore your smile in a way that will make it almost impossible for anyone to notice a difference between your real and prosthetic teeth.
A partial denture is made to fit like a puzzle piece. Using a gum-colored base and a metal wire, the areas with missing teeth will be filled with prosthetic teeth made to match your natural tooth color, size, and shape. Clips or clasps hold the partial in place.
Full Dentures
Made from a natural-colored acrylic base, full dentures sit snugly on top of your gums. If you need an upper denture, you can plan on it covering the entire roof of your mouth. However, if you need a lower denture, it will be made to look like a horseshow so there is room for your tongue.
Dr. Osman will first take measurements and impressions of your jaw, allowing the dental lab technicians to have what they need to build your custom dentures. Your natural suction will hold them in place, but, if you're looking for added security, you can always purchase a denture adhesive.
Implant-Retained Dentures
If something sitting on your gums isn't the level of security you were hoping for, there is another solution. Implant-retained dentures are a beneficial option for individuals who want a permanent restoration. Using 4-6 titanium posts, your dentist in Fanwood will strategically place them along the jawbone before sending you home to heal.
The implant (post) must fuse to the bone in order to be successful. Because they act like a tooth's root, it will keep your jawbone stimulated and strong, which is vital to preventing dental implant failure.
Once you've fully healed, you'll return to have your customized denture secured into place.
Benefits of Dentures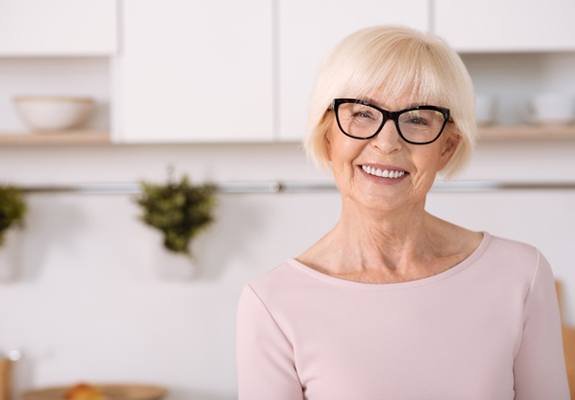 If you're looking for a reason to choose dentures, here are a few:
Offer functionality and restored ability to eat, chew, speak, and smile
Increase confidence and overall appearance
Creates a natural look
Improves oral health and general wellness
Offers a long-lasting solution to partial or full tooth loss
Cost of Dentures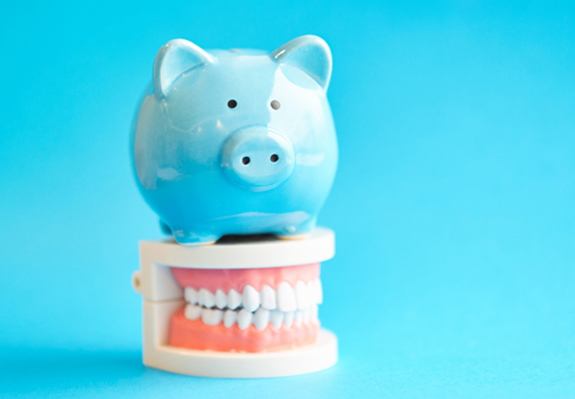 As it is with any form of dental work, the cost must be considered. During your consultation with Dr. Osman, you can expect him to go over the various factors that will contribute to the overall cost of your new prosthetic. Some of these include:
Type of dentures needed
The number of missing teeth you have
The materials used
Any pre-denture dental work needed (i.e. extractions, gum disease therapy, etc.)
Dentures FAQs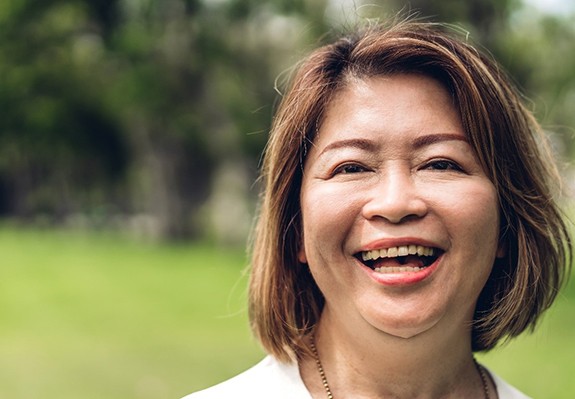 After reading everything above, do you still have questions about dentures in Fanwood? To make sure that you know you're choosing the best restorative treatment for your unique situation, we've answered some common questions we receive from our patients below.
How do you clean dentures?
Cleaning your dentures in Fanwood is an important step in protecting your oral health. Here are some basic maintenance tips and tricks to prevent plaque and food debris accumulation:
Brush your dentures at least once a day using a special denture brush and cleaning solution.
Be sure to clean your gums and tongue after each time you remove your dentures.
Remove and rinse your dentures after each time you eat.
Handle your dentures carefully, being sure not to damage them while you're cleaning them.
Soak your dentures in room temperature water every night.
Schedule routine checkups every six months with our friendly team.
Does it mean my dentures don't fit right if I gag when I chew my food?
When you first get your dentures, you'll go through an adjustment period that typically takes up to a month. During this time, it's important to continue using your dentures so you can get used to using them and strengthen your cheek and facial muscles. As you begin to adjust, it will become more comfortable and easier to chew food. Here are some exercises and tips to help you adjust faster:
Exercise your cheeks to give you more control over your dentures.
Try denture adhesive.
Cut your food into small pieces to chew them more easily.
Sing in the shower!
Read your favorite book aloud.
I've had my dentures for awhile and they feel loose. Do they need to be adjusted?
If you've had your dentures for awhile and they become loose or begin to shift in your mouth, it's likely due to the fact that the shape of your jawbone and oral structure has changed. This can occur because when the roots of your teeth are no longer stimulating blood flow to those areas, they can begin to deteriorate and change your facial appearance. If you notice that your dentures in Fanwood are beginning to fit differently, you can bring them to our office so we can make the necessary adjustments.
How much denture adhesive should I use?
Before you put denture adhesive on, it's important to completely clean and dry them. You can start applying the adhesive in either a series of small dots or strips to ensure even coverage. Be sure to avoid applying the adhesive to close to the edges of your dentures and make sure to only use a small amount to start. Using too much can make them difficult to remove. Press and hold your dentures firmly in place for a secure fit.