May 12, 2023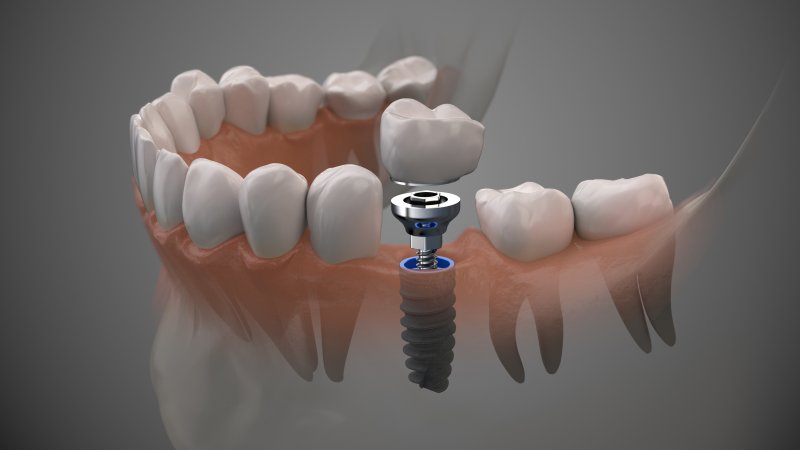 Dental implants are remarkably popular among people who are filling holes in their smile, so much so that many patients refer to them as the "gold standard" of tooth replacement. If you've spent any time at all looking into them, you've probably heard plenty about their many merits.
But you've probably also heard that dental implants require surgery to be situated in the jaw, which can sometimes make patients wonder about the procedure's safety. If you're nervous, here's some information that may put you at ease.
Is it Safe to Get Dental Implants?
Dental implants are a surgery like any other, which means that there's some level of risk involved. However, even among oral surgery specifically, the dental implant procedure has an incredibly high success rate.
So long as you're getting a dental implant from a decent dentist or an oral surgeon, the risk of any complications is exceedingly low. In fact, around 95% of dental implants are successful at 20 years, which means that there really isn't all that much to worry about in terms of safety.
Is Age a Factor?
If you're on the older side, even being told that dental implants are safe for most people may not necessarily put you at ease. However, even seniors don't necessarily have to worry—studies have shown that age doesn't intrinsically affect the success rate of dental implants. No matter your age, you don't have to be scared away from filling gaps in your smile.
That said, while age itself isn't necessarily a problem, seniors are at a greater risk of having pre-existing conditions that could potentially give them trouble when it comes to healing from dental implant surgery. For that reason, it's important to give your dentist a thorough medical history before the procedure.
What Can Put Dental Implants at Risk?
While dental implants have a remarkably low rate of failure, there are some pitfalls that you may want to watch out for. The biggest one is an infection, which is usually a consequence of not cleaning your dental implant properly.
In the worst case, it's possible for bacteria to begin to attack the bone tissue, which puts the dental implant in jeopardy. For that reason, it's critically important for dental implant patients to brush twice a day, floss daily, and make use of antibacterial mouthwash to kill plaque buildup.
About Our Practice
At Scotch Plains Fanwood Dental Care, we're proud to say that we do things a little differently than other dentists' offices. We won't treat you like just another name and number—we hope we can get to know each other personally. Our patients always leave our office feeling not only healthier, but also pampered and listened to.
If you have any questions about dental implants, we can be reached at our website or by phone at (908) 322-3222.
Comments Off

on Is Dental Implant Surgery Actually Safe?
No Comments
No comments yet.
RSS feed for comments on this post.
Sorry, the comment form is closed at this time.