February 4, 2023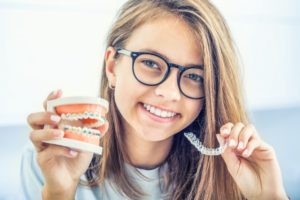 Most people want to have straight teeth because they want that perfect-looking smile. But straighter teeth offer more than just improving your appearance. It's easier to clean your pearly whites when they are not crooked, which decreases the risk of dental decay. Jaw issues are also less likely to occur with straight teeth due to bite alignment. When it comes to realigning your teeth with orthodontics, Invisalign or traditional braces are amazing options for the smile you desire! Here's all you need to know about both so you can decide which would be best for you.
Invisalign
As a popular treatment, Invisalign requires wearing clear removable aligners for 20-22 hours daily. They are switched out every two weeks to gradually shift your teeth into their designated place. Once finished, your dentist will give you a retainer to wear to preserve your results. The following are the pros and cons of Invisalign:
Pros
Removable aligners—The removability allows easier cleaning of your teeth and no limits on the types of food eaten.
Aesthetically pleasing–The aligners' clear, transparent appearance makes them hardly noticeable to others.
Low maintenance–Invisalign usually doesn't require emergency care and only requires adjustment from your dentist every two to three months.
Cons
Not for severe issues—Invisalign is not the best option for people who have severe misalignment or bite issues.
Can be easily misplaced–While the aligners' removability is convenient, it means they can easily be misplaced. If that happens, you risk reducing or delaying your treatment's success.
Requires responsibility—People must remember to wear their aligners for at least 20-22 hours. If the aligners become lost or there is a lack of diligence, their treatment may go off track.
Traditional Braces
Traditional braces are metal brackets and wires that are semi-permanently bonded to your teeth to apply tension. They are tightened every four to six weeks to place pressure on the teeth to move them to the desired positions. Here are the pros and cons of traditional braces:
Pros
Offers major adjustments—Traditional braces are able to adjust more complex misalignments.
Less to worry about–The semi-permanent bonding keeps braces from being lost or not worn frequently enough, which won't affect the treatment timetable.
Clear speech—There is no possibility of your speech being affected.
Cons
Requires attentive oral care–The brackets and wires can make oral hygiene more challenging. You must be thoroughly consistent with your dental routine.
More visible—This one is obvious and concerns people the most! Their metal appearance is noticeable during treatment.
Longer adjustment time: Adjusting to braces takes longer than Invisalign since the soft tissues of your mouth need to get used to the presence of the metal wires and brackets.
Invisalign and traditional braces offer so many benefits, but they also have things to consider. Choosing the best option for you requires more than just your preference. Your dentist can help you navigate which treatment would be best for you on your journey toward your straight, healthy smile!
About the Practice
Scotch Plains Fanwood Dental Center is eager to help you brighten your smile through the expertise of its team of dentists. With a focus on your comfort and modern technology, they offer a variety of services for you to achieve your dental goals. By offering both Invisalign and traditional braces, your treatment will be under the care of a certified orthodontist with a customized plan. To schedule a consultation, contact them through their website or call (908) 389-7992.
Comments Off

on Invisalign or Traditional Braces: Which is Best for Your New Smile?
No Comments
No comments yet.
RSS feed for comments on this post.
Sorry, the comment form is closed at this time.