January 4, 2023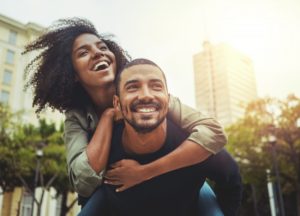 When dating, people often start with their appearance to become appealing to others. However, it's important to know this should involve more than just being physically fit or wearing the latest fashions. Your smile is just as essential when it comes to finding your significant other. According to a DentaVox survey, 68% of respondents stopped dating their partner because of their bad teeth or breath. And unfortunately, only 22% of respondents realized their partner might have broken up with them for that same reason. There is a definite link between your oral health and finding love. Read on to learn more about it and what you can do to put your best smile forward!
The Connection Between Dating and Dental Health
So, you have a date coming up that you are so excited about. Most people begin to do all they can to make sure to present the best version of themselves. Get a haircut. Nails done. Wash the car. Pick out the best outfit. Would you be surprised to find out that most people don't think these things are the most important in desiring someone?
In a Match.com survey of over 5,000 people, 58% of men and 71% of women said that a good smile is the biggest "must-have" in a partner. The research showed that your pearly whites make more of an impact on someone than your hair, nails, car, or shoes! One of the researchers for this survey believes the underlying reason for this is that teeth are a sign of good health and can help people determine how much someone takes care of themselves, whether positively or negatively. Looks like your smile does more than just let someone know you are happy.
How to Win Over a Date with Your Smile
The good news is that practicing good preventive oral dental care and improving the look of your smile is completely possible! Here are some helpful tips on how to get your pearly whites to shine on a date:
Brush your teeth twice per day for two minutes
Consider using a fluoride toothpaste to help strengthen tooth enamel for extra cavity protection
Be mindful to brush your tongue to remove plaque buildup and bad odor
Floss once per day to remove food particles between the teeth, stimulate the gums, remove plaque, and lessen inflammation
Limit sugary and acidic foods which can lead to cavities
Drink water after meals to help wash away sticky and acidic foods and beverages
Visit the dentist for your biannual cleanings and checkups
Consider cosmetic dental treatments, like professional teeth whitening or veneers, to achieve your picture-perfect smile
Many things can open the door to connecting to that special someone, including your teeth! By caring for your dental health, your smile is sure to be bright and healthy, leaving you ready for your next dating adventure.
About the Practice
Scotch Plains Fanwood Dental Center improves one smile at a time through the expertise of its team of dentists. With a focus on your comfort and modern technology, they offer a variety of services for you to achieve the smile of your dreams! Their personalized cosmetic dentistry ranges from dental crowns, bonding, veneers, and Zoom! Teeth Whitening. To schedule a consultation, contact them through their website or call (908) 389-7992.
Comments Off

on Want to Improve Your Dating Life? Start with Your Smile!
No Comments
No comments yet.
RSS feed for comments on this post.
Sorry, the comment form is closed at this time.