December 24, 2022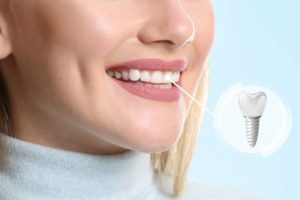 If you have missing teeth, you're probably looking for ways to replace them. Well, dental implants are an excellent option to consider! They're the most permanent method of tooth replacement, helping patients eat, speak, and smile with complete confidence once again. Plus, studies show that implants have a success rate as high as 98 percent. With statistics like that, you can feel confident that it's the best solution for your smile – but what are the reasons for this stellar dental implant success rate? Continue reading to find out from your implant dentist in Fanwood!
Getting Implants As Soon As Possible
Once you're no longer able to save a tooth or if it's already been extracted, the best course of action is to replace it as soon as possible. Otherwise, your jawbone will no longer get stimulation and start to weaken and deteriorate in the area where the missing tooth's root used to be. Fortunately, getting dental implants can prevent the breakdown of your bone tissue.
Since the implant post is inserted into the jawbone, it fuses with the surrounding bone tissue during the healing process. As a result, you'll eventually have the same support and stimulation as your natural tooth!
Excellent Health
After dental implant placement, your body will begin growing bone around them. This natural process called osseointegration is crucial for securing the implants. For it to be successful, your body must be in excellent health. That means you must practice good oral hygiene and eat a healthy diet full of foods that meet all your nutritional needs. Then, you can prevent issues like gum disease from causing dental implant failure.
Modern Technology
When considering dental implants, it's crucial to choose a dental practice that uses high-quality, modern tools and technologies. They're essential to determine the exact placement of your dental implant, increasing your chances of success. Plus, technological tools like a soft-tissue laser can help manage your gums around the implant to achieve the most natural-looking appearance. At your consultation, make sure you ask your dentist what type of technology they're thinking about using and how it will improve your success rate.
Skill Level of Your Implant Dentist
Do you know what the single, most important factor in determining your success rate is? The experience of your dentist. Make sure you ask them about their education and experience in the dental implant process. Some dentists don't place the implants themselves – they might attach the crown and refer you to a specialist for placement. That said, be sure to ask the implant dentist about their skills, expertise, and experience!
Commitment to Dental Implants
Last but not least, you need to hold up your end of the bargain after your dental implant procedure. Implants are a lifetime commitment, meaning you must be prepared to take care of them.
Here are a few ways you can ensure long-term dental implant success:
Attend all your follow-up visits
Make biannual dentist appointments
Brush at least twice a day and floss daily
Rinse with an antibacterial mouthwash
Are you ready to start your dental implant journey? Contact your dentist and schedule a consultation. They'll help you obtain the beautiful, complete smile you've always dreamed of!
About the Practice
At Scotch Plains Fanwood Dental Care, we prioritize a personalized approach with high-quality care and relaxing appointments because a dental visit should not be a stressful time. Our four experienced dentists are ready to work for the benefit of your smile. We offer evening and Saturday appointments for your convenience. If you are interested in dental implants, we can perform the entire treatment at our office location, and sedation dentistry is available for your comfort. Schedule a consultation on our website or call (908) 322-3222.
Comments Off

on Dental Implants: What Makes Them So Successful?
No Comments
No comments yet.
RSS feed for comments on this post.
Sorry, the comment form is closed at this time.