November 9, 2022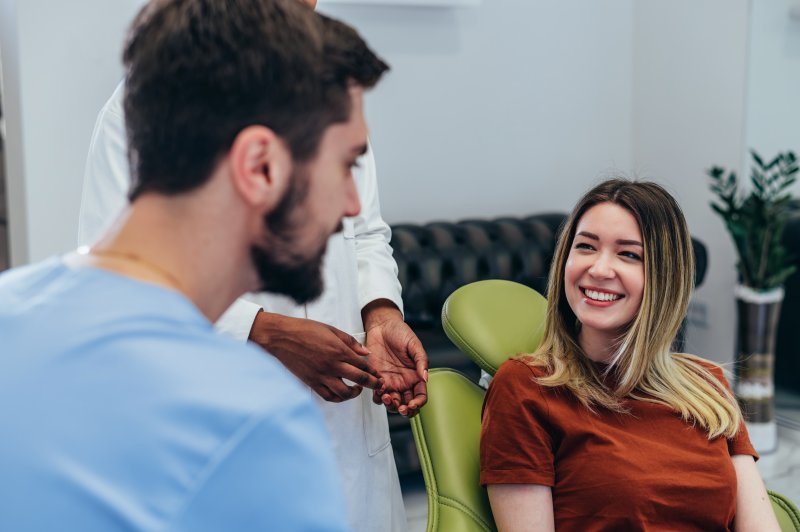 If you're struggling with one or more dental imperfections in your teeth, then you might be considering undergoing cosmetic dentistry to improve them. By getting a smile makeover, you'll be able to enhance your pearly whites and correct any flaws ranging from mild chips or cracks to severe stains. That said, it's best to be well-informed about your treatment before committing to it, that way there aren't any surprises later on. Read on to learn four important questions to ask during your smile makeover consultation!
#1: What Cosmetic Dental Work Do You Suggest?
No two smile makeovers will be the same, so you'll want to ask your dentist which treatments they recommend first. To determine the right ones for you, your dental team will assess your oral health and discuss your smile goals. Once they understand your desired results, they can decide which services would be best, such as teeth whitening, dental bonding, or veneers.
#2: Will My Results Look Natural?
Although you may want to transform your smile dramatically, most patients also want their results to look as natural as possible. Feel free to ask your dentist about their treatment recommendations if this is the case with you. They'll be able to walk you through the specifics of each procedure and how you can achieve lifelike results. For instance, you wouldn't want to get the whitest shade of veneers, as this can make your smile makeover obvious to others.
#3: Can I See Before & After Shots of Past Patients?
If you want to be more comfortable and confident about your smile makeover, you should ask your dentist about pictures of previous patients. This will allow you to get a clearer idea of the results you should expect, especially if the people in the photos experienced similar issues with their teeth. Your dentist will be more than happy to share their work, giving you a chance to see examples of their talent.
#4: How Long Will My Results Last?
The last thing you want is to beautify your smile just to need to redo your treatment a few months later. While the longevity of your cosmetic dental work can be influenced by proper oral hygiene, your results will mostly last based on the kind of procedure you choose. For example, teeth whitening and veneers can both brighten your smile, but the former only last several months while the latter can last 15 years or more.
These are only a few questions you should ask your dentist before undergoing cosmetic dentistry. Once you understand what to expect from your treatment, you'll feel much more prepared for when it's time for your procedure.
About the Author
Dr. Ahmad Kareem Osman received his dental degree from the New York University College of Dentistry. He also regularly seeks continuing education to expand his expertise and refine his skills. He provides a wide variety of advanced and comprehensive services, including teeth whitening, dental bonding, metal-free restorations, and veneers. If you'd like to schedule a consultation, visit his website or call him at 908-322-3222.
Comments Off

on 4 Essential Questions to Ask Before Your Smile Makeover
No Comments
No comments yet.
RSS feed for comments on this post.
Sorry, the comment form is closed at this time.