September 4, 2022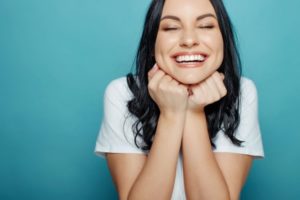 Your smile is one of the first things that people notice about you—so knowing that your pearly whites look their absolute best will go a long way towards making good first impressions, in addition to boosting your self-confidence! But unfortunately, teeth aren't always naturally perfect, and they sometimes possess flaws that can negatively impact your smile's appearance. Keep reading to learn more from your dentist about four of the most common cosmetic flaws that patients experience, along with some of the ways they can be addressed.
Stained Teeth
If you're an avid coffee-drinker or enjoy other foods and drinks that contain staining agents, your teeth might be anywhere from moderately to severely stained. Sometimes this discoloration is also the result of more serious oral health issues or underlying genetic conditions. However, professional teeth whitening is able to address all types of tooth discoloration—and in most cases, quite effectively! Your dentist can perform in-office whitening or send you home with a kit containing professional-grade gels and trays. Both methods are safe, relatively quick, and can provide results that last anywhere from six months to three years with good oral hygiene.
Chipped or Fractured Teeth
If you have teeth that are chipped or fractured, you might feel like your situation necessitates something serious—but these issues are much more common than you might realize and are also quite easy to treat! Porcelain veneers, which are thin sheets of dental porcelain, can be bonded to the outer surfaces of affected teeth, immediately improving their appearance. Cosmetic dental bonding can also be used to mask minor, targeted flaws in teeth using a composite, tooth-colored resin. Metal-free dental crowns are sometimes utilized too, as they can offer an added layer of protection to compromised teeth while preserving their natural look.
Misshapen Teeth
In a perfect world, everyone would have perfect, uniform teeth—but sadly, this isn't the reality we live in! Whether it's due to genetics, physical trauma, or some type of oral health issue, teeth can sometimes become misshapen. This is very problematic for your bite pattern as well as your facial structure. Misshapen teeth can also result in TMJ disorders that affect the mobility and functionality of your jaw. There are a variety of options that can be used here including veneers, cosmetic bonding, or even recontouring, which involves a small amount of your enamel being "shaved off" to match your surrounding teeth.
Crooked Teeth
Another common and widespread problem that many suffer from is crooked teeth. Having crooked teeth doesn't just result in an awkward smile; it can also negatively affect your bite pattern and overall nutrition, in addition to inhibiting your ability to properly clean your teeth. But fortunately, orthodontia can solve the vast majority of these issues! Options like traditional braces as well as clear aligners like Invisalign are both widely utilized to strategically straighten crooked teeth. In some less-severe instances, even veneers can be used to straighten out uneven rows of teeth.
There are many types of issues that can affect the health and beauty of your smile—but you don't have to settle for living with them! If you're curious about receiving one of these cosmetic options to address existing flaws in your smile, don't hesitate to contact your dentist.
About the Practice
Scotch Plains Fanwood Dental Care proudly serves patients and families in the Fanwood area. The practice is pleased to offer a wide range of available services including several cosmetic treatment options. If you have any questions about any of these cosmetic treatments or you'd like to arrange a visit, feel free to contact the practice through their website or by phone: (908) 322-3222.
Comments Off

on Common Cosmetic Dental Flaws & How They're Treated
No Comments
No comments yet.
RSS feed for comments on this post.
Sorry, the comment form is closed at this time.