September 1, 2022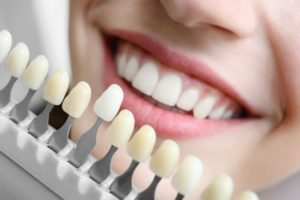 These days, more people than ever before are opting to enhance their smiles with cosmetic dentistry. In fact, according to the American Academy of Cosmetic Dentistry, the demand for cosmetic dental work in the US has actually doubled within the last five years! And this huge demand has been met thanks to two incredibly popular treatment options: teeth whitening and porcelain veneers. Here's a closer look at what these two awesome solutions can potentially do for your pearly whites.
Unlock Your Smile's Potential with Teeth Whitening
There are many reasons for tooth discoloration—sometimes it can simply occur naturally and for reasons beyond our control, and other times, it's self-imposed due to the things we consume. But regardless of how your teeth have become discolored, they can be whitened! Your dentist has access to special tools and professional-grade whitening agents that are more effective than anything you can purchase yourself. They can safely and effectively whiten your smile in one quick visit, with results fully manifesting after about a week or two.
Your dentist can also send you home with a whitening kit that has everything you need to whiten on your own schedule. Both in-office whitening and take-home whitening kits are viable means of whitening your smile; and assuming you take care of your teeth, their new glow can last anywhere from six months to three years.
Make Your Teeth Picture-Perfect with Porcelain Veneers
Sometimes, patients feel as though their smile needs more work than what teeth whitening can offer. Other times, teeth whitening isn't able to give patients the results they were hoping for. In these cases, porcelain veneers can give your smile the whiter and brighter appearance that you're hoping for, but the benefits don't stop there! They can also capably address several different aesthetic issues including minor chips and cracks, gaps between teeth, and more.
Once bonded to the outer surfaces of your teeth, veneers instantly improve their appearance tenfold. This is because they're crafted from a special type of dental porcelain that's durable and similar in appearance to your natural teeth. They're also precisely measured and shaped for your individual smile. With proper care, veneers can last for up to 15 years, making them more of a long-term solution than teeth whitening.
Picking the Best Cosmetic Option for Your Smile
Cosmetic dentistry is typically elective, meaning that patients choose whether or not they'd like to receive a certain procedure. That said, picking the right cosmetic option for your smile will depend entirely on the results you're trying to achieve. So, if you're only hoping to address staining and discoloration, teeth whitening is probably your best bet. However, if your smile needs a little more work and you have noticeably compromised or damaged teeth, veneers might be the answer you're looking for.
In any case, your cosmetic dentist will also inspect your mouth, provide input, and approve your eligibility for a particular procedure. A better smile is entirely possible—and both teeth whitening and veneers are just two of the many ways to go about it!
About the Practice
The team at Scotch Plains Fanwood Dental Care is honored to serve the dental needs of the Fanwood area under the leadership of four skilled specialists: Dr. Ahmad Osman, Dr. David Malakov, Dr. Kirk Kalogiannis, and Dr. Jason Lin. Together they combine decades of experience to provide all of their patients with an exceptional level of dental care. The practice is proud to offer several available services including cosmetic options like teeth whitening and porcelain veneers. To schedule a visit, feel free to contact the practice online or over the phone: (908) 322-3222.
Comments Off

on Teeth Whitening vs. Veneers: Which Is Right for My Smile?
No Comments
No comments yet.
RSS feed for comments on this post.
Sorry, the comment form is closed at this time.