June 8, 2022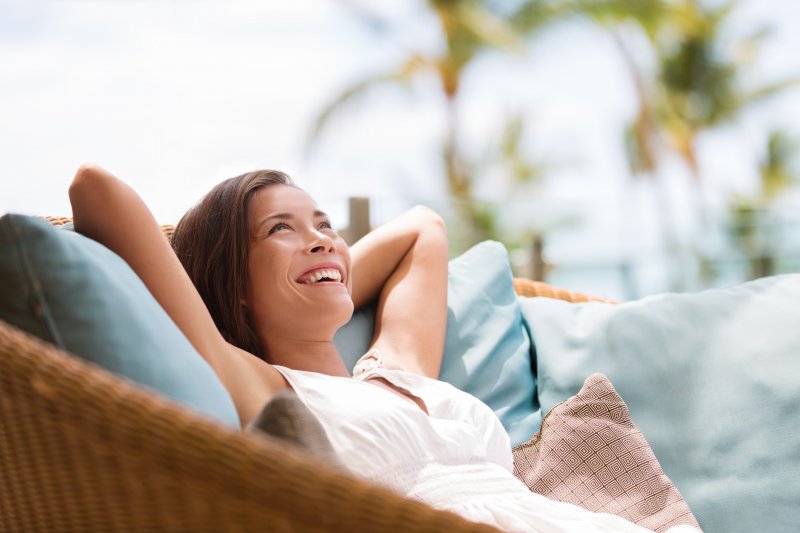 Do you have one or more missing teeth? One of the most popular and effective ways to replace them is with dental implants. With their superior support, you'll be able to enjoy a stronger and healthier smile for many years to come! But you may be wondering when the best time is to start the procedure. Keep reading to learn four reasons you should get dental implants during summertime.
Reason #1: Avoid Premature Aging
Having vacation-ready pearly whites is beneficial to both your dental and mental health, especially if you have missing teeth. Not only will dental implants offer a fuller smile, but they can also preserve your facial structure. Unlike other restorations, the metal posts will be embedded directly into your jawbone. This will help stimulate blood flow to promote healthy bone tissue, avoiding further tooth loss and premature aging in the process.
Reason #2: A More Relaxed Schedule
Since it's summer, you'll likely have a more flexible schedule throughout your day. Whether you're on a break from work or planning on a relaxing vacation, you can undergo a dental implant procedure with no rush! This also means you'll have plenty of time for your recovery, which is essential for a successful treatment.
Reason #3: Enjoy Plenty of Cool Treats
Once you receive your dental implants, it'll be important for you to stick to a soft food diet for several days. Fortunately, there are numerous cool treats to enjoy during summer that can also be safe after your surgery. These foods can include cold soups, smoothies, yogurt, and even ice cream! Since they'll be cool to the touch, you can enjoy these tasty treats while allowing your mouth a smoother healing process.
Reason #4: Use Your Benefits Before They Expire
If you have dental benefits, then you probably know that they typically expire at the end of the calendar year. Whatever you don't use won't roll over or be refunded. For this reason, it's best to make the most of your allowance during summer, as this is only the halfway point in the year. Be sure to speak with your dental team about your benefits so they can help make your dental implant treatment more convenient.
With a flexible schedule and plenty of soft cool treats to enjoy, there's no better time than summer to restore your full smile! Feel free to speak with your dentist about getting dental implants this season, and they'll be more than happy to discuss your treatment plan.
About the Author
Dr. Ahmad Kareem Osman earned his dental doctorate from the New York University College of Dentistry. He also regularly pursues countless hours of continuing education through his membership in the American Academy of Implant Dentistry. He offers a wide variety of advanced treatments, including dental implants to help preserve your pearly whites. If you'd like to schedule a consultation this summer, visit his website or call 908-322-3222.
Comments Off

on 4 Reasons to Get Dental Implants During Summer
No Comments
No comments yet.
RSS feed for comments on this post.
Sorry, the comment form is closed at this time.