October 11, 2020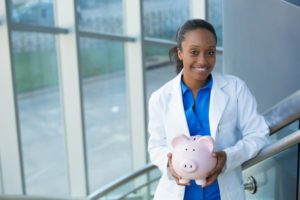 If you've had a denture for a while, chances are you're already aware of how they can slide around at inopportune moments. You're sick and tired of your teeth slipping or even falling out when you're just trying to eat. Maybe you've heard about how attaching your denture to dental implants can make them secure enough to completely eliminate slippage. But you've also heard that this treatment can be a little pricey. Keep reading below as we answer the question, "Are dental implants worth the cost in Fanwood?"
But First, What Are Dental Implants?
A dental implant is a tiny, screw-shaped titanium post. Once it has been surgically placed into your jawbone, it fuses to the bone, replicating the root of your lost tooth and essentially becoming a part of your anatomy. Then, depending on how many teeth you've lost, your dentist places a crown, bridge, or denture on top of the implants. Because the implants are anchored in your jaw, you won't have to worry about your replacement teeth moving around. They'll be just as sturdy as your natural pearly whites.
Are Dental Implants Worth the Cost?
Dental implants admittedly cost more up front than alternative tooth loss solutions like traditional dentures and bridges. However, many patients find that getting dental implants actually saves them money in the long run. Other options typically must be replaced every five to ten years. By contrast, dental implants can last for 30+ years, or even a lifetime, if you take good care of them. The cost of replacing bridges and dentures can eventually add up to exceed the initial cost of dental implants in Fanwood.
Plus, dental implants offer unmatched oral health benefits. As the only option to replace the tooth's root in addition to the crown, they stimulate your jawbone through chewing. This prevents your jawbone from shrinking in the way that it often does after tooth loss. Your jawbone remains strong enough to support your facial structures and keep you looking young for years to come.
How to Pay for Dental Implants
Many dental insurance plans initially viewed implants as a cosmetic treatment, and as such, didn't cover them. Nowadays, more and more insurance carriers are beginning to cover the cost. Even if your policy doesn't cover the implants themselves, it might pay for other steps in the treatment process, such as your consultation. Additionally, your dentist might offer an in-house savings plan or third-party financing to help you fund your new smile.
All that to say, dental implants are absolutely worth every penny. If you're ready to upgrade your denture with a more durable solution, ask your dentist if dental implants are right for you.
About the Author
At Scotch Plains Fanwood Dental Care, Dr. Kirk A. Kalogiannis can perform every step of the dental implant process under one roof. Among his numerous accolades are his Associate Fellowship of the American Academy of Implant Dentistry and his Diplomacy of the American Board of Oral Implantology. His practice welcomes all dental insurance plans and offers an in-house savings plan to net you discounts on many services. To learn more about how you can afford dental implants, contact his office at (908) 322-3222.
Comments Off

on Are Dental Implants Worth the Cost?
No Comments
No comments yet.
RSS feed for comments on this post.
Sorry, the comment form is closed at this time.