September 14, 2020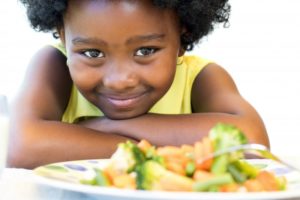 About 42 percent of children between the ages of two and eleven have had at least one cavity, according to the National Institute of Dental and Craniofacial Research. Parents often assume that if their son or daughter gets a cavity, that they're too lax about brushing and flossing. While that may be the case sometimes, another factor that contributes to tooth decay is the food your child eats. In this blog post, a children's dentist near Scotch Plains discusses what causes cavities in children, as well as a few healthier snack alternatives your little one will enjoy.
The Truth About Cavities in Children
Everyone's mouth is naturally full of bacteria, some of which are beneficial. However, many of them feed on carbohydrates like sugar in the foods we eat. They then produce an acidic waste product that erodes the structure of a tooth. Once a particular part of a tooth is exposed to too much of this acid, a cavity forms.
Babies are actually born without any of these harmful oral bacteria, but parents often pass on their own bacteria by transferring saliva. This happens when your baby eats from the same spoon as you or when you brush their teeth with your toothbrush, for instance. If you're prone to cavities yourself, you're likely to pass those genes on to your little one.
To minimize the chance that your son or daughter will develop tooth decay, it helps to avoid highly processed, sugary snacks.
Mouth-Healthy Snacks Your Child Will Love
Many popular snacks for kids are chock full of sugar that fuels the destructive bacteria in their mouths. Here are some tooth-friendly snack alternatives that taste great and promote excellent oral health:
Yogurt. Yogurt is rich in calcium, which strengthens your child's developing bones and teeth. Instead of the high-sugar yogurts marketed at kids, choose a plain yogurt and sweeten it with a drizzle of honey.
Celery with peanuts and raisins. This recipe, also known as "ants on a log," is a fun way to ensure your son or daughter eats a vegetable. Cut up a stalk of celery, spread peanut butter inside of it, and sprinkle some raisins on top.
Cheese. Cheese and other dairy products are a wonderful source of calcium as well as some of the vitamins they need for proper growth.
Pieces of fruit. Most fruits are rich in fiber and essential nutrients like potassium and vitamins A and C. Apples, bananas, pears, and grapes are all convenient snacks. You could also cut up fruits like pineapple or cantaloupe into bite-sized chunks.
Most kids get hungry between meals. Instead of giving them cavity-causing foods near Scotch Plains, have them try one of the mouth-healthy snacks listed above. Their smile will thank you!
About the Practice
At Scotch Plains Fanwood Dental Care, our dentists love giving children the foundation they need for a lifetime of healthy smiles by showing them that dental care is nothing to fear. Most of the members of our dental team are parents too, and we treat all of our young patients like they were our own children. To learn more about how to care for your little one's budding smile, contact us at (908) 322-3222.
Comments Off

on 4 Yummy, Tooth-Healthy Snacks Your Child Will Love
No Comments
No comments yet.
RSS feed for comments on this post.
Sorry, the comment form is closed at this time.