August 10, 2020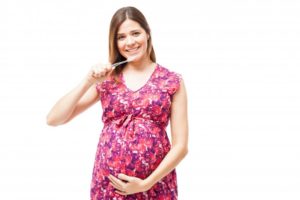 If you're pregnant, it's likely that you have a lot on your mind! However, between doctor appointments, setting up the nursery, and all the other ways you're getting ready for the little one on the way, don't forget to take care of your smile. Maintaining great oral health is especially important during pregnancy, for both you and your baby. Read on as your Scotch Plains children's dentist shares a few important tips for keeping your mouth healthy while you're expecting.
Don't Postpone Checkups or Dental Care
There's no need to cancel your routine dental checkups or scheduled dental work simply because you're pregnant. In fact, it's more important than ever that you don't! Your oral health directly influences your overall health, and the hormonal changes your body is going through can put you at a higher risk of dental issues. Regular dental checkups, cleanings, and dental care like dental fillings can all be safely performed any time throughout your pregnancy. In fact, the American Dental Association, the American Congress of Obstetricians and Gynecologists, and the American Academy of Pediatrics all encourage women to get dental care while expecting.
Keep Your Dentist Updated
It's important that your dentist is kept informed about your pregnancy when you come visit them. Let them know how far along you are, if you've received any special advice from your physician, and a list of all the medications you're taking, including over-the counter products, prescribed medications, and prenatal vitamins. Your dentist will take all this information into account in order to provide the best recommendations for your oral health. They'll take every precaution to ensure that you and your baby's health are safeguarded during any treatment you need, including local anesthetics and x-rays.
Pay Attention to Your Gums
The hormonal changes caused by pregnancy put you at a higher risk of a bacterial infection known as gum disease. In fact, many women experience red, puffy, and easily bleeding gums in what's known as pregnancy gingivitis. Left untreated, this common condition can lead to more advanced gum disease and cause serious complications. Practice great oral hygiene to keep your gum tissue healthy and call your dentist right away if you notice any swelling, bleeding, or tenderness. They may recommend specialized products or more frequent cleanings to keep your gums healthy
Reign in Your Sugary Cravings
Gum disease isn't the only oral health issue you're at a higher risk of while expecting. Pregnant women are more prone to cavities because of sugary cravings and the tendency to snack more often. However, remember that the more often you snack, the higher your risk of cavities and tooth decay. Since your baby's teeth and bones begin to develop about three months into pregnancy, try adding more healthy dairy products such as cheese and yogurt to your diet instead.
In the midst of this exciting time in your life, don't let your oral health fall by the wayside. Keep these tips in mind during your pregnancy in Scotch Plains to keep your glowing smile healthy.
About the Practice
At Scotch Plains Fanwood Dental Care, we're proud to offer friendly, personalized care for the unique needs of every smile. With a comprehensive menu of dental services from children's dentistry to complex restorative services, we aim to meet all your family's oral health care needs under one roof. Come visit us for a checkup during your pregnancy and learn more about the specialized dental treatments we have that can help keep your little one's smile healthy when they arrive! To learn more, we can be reached via our website or at (908) 322-3222.
Comments Off

on How to Care for Your Oral Health During Pregnancy
No Comments
No comments yet.
RSS feed for comments on this post.
Sorry, the comment form is closed at this time.