July 24, 2020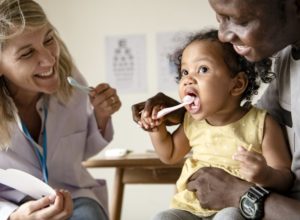 When you're the parent of a young child, you already have plenty to worry about. You might not have the time to wonder when you should start taking your son or daughter to see their children's dentist near Scotch Plains. Do you book an appointment the moment their first tooth peeks through their gums or do you wait until all their baby teeth have grown in? In order to start your little one on the right path to optimal oral health, let's talk about when their first dental visit should occur and what you can expect.
When Should I First Take My Child to the Dentist?
Most dental professionals will agree that it's important to start ensuring your child has great oral health as soon as possible. They'll also recommend making that first dental visit as soon as their first tooth comes in, or their first birthday, whichever comes first. As cute as their little gummy smile might be, you and your child's dentist should start working together right away to make sure that smile grows up to be as healthy as can be. Your little one's dental team can suggest certain products and instruct you on how to use them during the first appointment.
What Should You Expect?
The first visit is crucial because it allows the dentist to begin forming a good relationship with your son or daughter. Introducing your child to the sights and sounds of a dental office early on can help them create a positive association with that environment, reducing anxiety or fear and making them more likely to seek out dental care on their own when they get older.
During this visit, your dentist will perform a quick yet thorough examination of your baby's mouth and discuss how best to care for their developing smile. For example, they might tell you that it's best to clean your child's gums with a wet washcloth and begin using a small toothbrush to clean their teeth as soon as they start erupting.
You may receive various other tips for at-home oral care or recommended treatments, such as:
Fluoride applications to greatly reduce the risk of cavities
How to make the teething process easier for your baby
Ways to break harmful habits like thumb sucking
To make sure your child's oral health starts out on the right foot, it's essential that you take them to the dentist from an early age. Your children's dentist near Scotch Plains can evaluate the health of your child's teeth and gums as they age to give them a healthy smile for life.
About the Practice
At Scotch Plains Fanwood Dental Care, we're happy to treat smiles of all ages, including very young patients. We love showing children that there's nothing to fear about going to the dentist. Because our dentists are parents, too, we can guarantee that we'll deliver the most comfortable, positive care to your little one. To learn more, visit our website.
Comments Off

on When Should You Schedule Your Child's First Dental Appointment?
No Comments
No comments yet.
RSS feed for comments on this post.
Sorry, the comment form is closed at this time.