July 6, 2020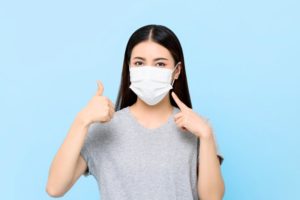 With COVID-19 cases on the rise, it's important that you take every precaution you can in order to avoid infection. Frequent hand washing, staying home when possible, and keeping your distance when in public are great ways to reduce transmission. When you do go out, it also helps to wear a face mask. But what exactly is the best way to wear one? A dentist in Fanwood offers some tips below on how to maximize the effectiveness of your face mask.
When Should You Wear a Face Mask?
Although the World Health Organization (WHO) originally suggested the general public not wear face masks unless you had respiratory symptoms or were caring for a sick person, it has recently been recommended that everyone wear a mask whenever they visit a public place. Masks may not be 100% effective at stopping the spread of COVID-19, but they can prevent larger respiratory droplets from traveling from person to person. This considerably slows the spread of the virus.
How to Put on a Face Mask
Before going out in public, take the following steps to put your mask on:
Wash your hands with soap and water for at least 20 seconds, or scrub thoroughly with alcohol-based hand sanitizer.
Make sure the colored side of the mask is facing outward.
Hold the mask by both ear loops and place one behind each ear.
Pull the bottom of the mask down so it covers your nose and chin.
What NOT to Do When Wearing a Face Mask
Once the mask is secured on your face, avoid the transfer of germs by NOT doing the following:
Touching the mask
Letting the mask dangle from one ear
Hanging the mask around your neck
Crisscrossing the ties
Reusing a mask meant for one-time use only
If you absolutely must touch the mask while you're wearing it, disinfect your hands beforehand and afterward.
How to Remove and Discard a Face Mask
Safely removing and disposing of a mask can limit the transfer of dangerous pathogens. Here's how to do it:
Wash your hands or use hand sanitizer before taking off the mask.
Don't touch the mask itself, as it could be contaminated. Hold it by the loops only.
Unhook both ear loops.
Holding the mask by the loops, drop it into a covered trash can.
Disinfect your hands once more.
Until a COVID-19 vaccine is discovered, wearing a face mask, and properly putting it on and taking it off, may be our best bet in avoiding catching the virus. For more tips on how to stay as healthy as possible in these times, ask your dentist in Fanwood.
About the Practice
Scotch Plains Fanwood Dental Care is a family dentistry practice where every patient is treated like a unique person, not just a name on a chart. Their five dentists each have their own unique skill set they use to deliver comprehensive care to patients of all ages. They make their practice as safe and clean as possible to ensure their patients stay healthy. To learn more about dental safety protocols in Fanwood, visit their website.
Comments Off

on How to Correctly Wear a Face Mask
No Comments
No comments yet.
RSS feed for comments on this post.
Sorry, the comment form is closed at this time.