May 30, 2020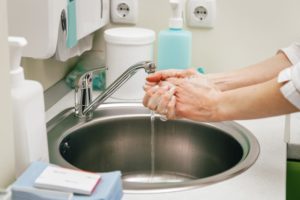 Like most patients, you may be feeling a twinge of anxiety at the thought of visiting your dentist in Fanwood again. Even though you desperately need a routine checkup and cleaning, the thought of breaking your self-isolation during COVID-19 worries you. Fortunately, your dentist has implemented dozens of new safety precautions in response to COVID-19 to ensure the health of patients. One of these is by creating a more thorough and strict handwashing protocol in response to the CDC's safety guidelines. Read on to learn more about what your dentist is doing to prioritize your health.
Understanding the Importance of Handwashing
The CDC has stated that frequent and regular handwashing and sanitizing, whether you're a business or individual person, is one of your primary defenses against the threat of COVID-19. This is primarily due to how it's spread. When a COVID-positive person sneezes, coughs, or even talks loudly without a mask on, their saliva droplets can transfer to surrounding people and surfaces. If people come into contact with these surfaces and then touch their face, the virus can then transfer to the mucous membrane via their eyes, nose, or mouth.
When you wash your hands after you touch public or possibly infected services, this will keep you from spreading the virus to your mucous membrane.
Dental Practice Handwashing Protocols
One dental safety protocol in Fanwood is meeting the CDC's guidelines on handwashing in businesses. This is incredibly important in the healthcare world due to the fact that dentists, hygienists, and medical personnel all handle bodily fluids. In order to prioritize patient and staff safety and ensure that no droplet transfer occurs, they're implementing these handwashing steps:
Washing hands before and after putting gloves on.
Thoroughly washing for at least 20 seconds.
Not wearing jewelry or fake nails of any kind on hands.
Keeping hand sanitizer in convenient areas of the practice for patients.
Washing hands whenever the treatment room is left.
Completely drying hands with paper towels.
With these steps in place, dental staff are helping to minimizes the threat of COVID-19 so patients can keep up with their oral hygiene without putting their health at risk.
Additional Safety Measures During COVID-19
In addition to strict handwashing measures, your dentist in Fanwood is also implementing a variety of additional precautions in an effort to stop the spread of COVID-19 throughout their community. Some of these precautionary practices include:
Pre-screening patients before appointments.
Limiting the number of patients seen in a day.
Disinfecting and sanitizing after each patient.
Practicing in-office social distancing whenever possible.
If you have any additional questions about what your dentist is doing to prioritize your health and safety, don't hesitate to contact their office and ask. Knowing that you're being well taken care of will allow you to get a checkup and cleaning without having to bear the heavy weight of anxiety about your health.
About the Practice
At Scotch Plains Fanwood Dental Care, we offer the expertise and knowledge of five highly skilled dentists. Each of our dentists is dedicated to providing high-quality care that's honest and regularly completes continuing education to fulfill that. Our office is currently accepting appointments for new and existing patients and implementing a variety of safety practices to look after their wellbeing during the COVID-19 crisis. If you have any questions or would like to schedule an appointment, visit our website or call 908-322-3222.
Comments Off

on Learn About Your Dental Practice's New Handwashing Protocol
No Comments
No comments yet.
RSS feed for comments on this post.
Sorry, the comment form is closed at this time.