April 23, 2020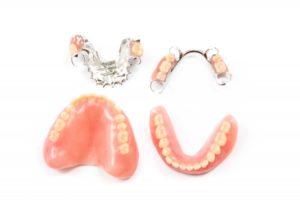 You're absentmindedly brushing your dentures clean while listening to the news from the other room. You hear something about the coronavirus pandemic, and you perk up in interest. While your attention is otherwise occupied, you accidentally drop your dentures on the floor, and they shatter into several pieces. What should do you? Read this guide to find out how to handle damaged dentures in Fanwood.
What Should You Do?
First things first, call your dentist. While most dental practices are currently closed for all non-emergency procedures due to COVID-19, a broken denture may qualify as a dental emergency. After all, it's going to be difficult to eat or speak without a full and properly fitting set of pearly whites. They should be able to get you in for an emergency appointment in a timely manner so that you can enjoy using your teeth as soon as possible.
There are some things you can do at home before your appointment to make it a little easier for your dentist, such as:
Collect any pieces of the denture that have broken off and bring them with you to your dentist's office.
Take them out. If your dentures are damaged in any way, you should discontinue wearing them until they are fixed.
What NOT to Do
Whatever you do, do NOT attempt to repair your dentures on your own at home, whether that be with an over-the-counter denture repair kit or some kind of glue. Doing so can cause the damage to spread and ultimately make your problem worse. Instead of simply repairing your dentures, you could break them to the point that you need to get a whole new denture, which can be expensive. As mentioned earlier, you should also stop wearing dentures that are damaged or broken in any way.
How to Take Care of Your Dentures
While accidents happen, there are certain precautions you can take to keep your dentures in tip-top condition, which include:
Brush your dentures with a soft-bristled toothbrush every morning and night. Do NOT use toothpaste (especially whitening toothpaste) since that can be abrasive.
Soak them overnight in a denture cleansing solution. Do not allow them to dry out at night. This could cause them to lose their shape, thus not fitting anymore.
Use only cold or lukewarm water to clean your dentures. Hot water could warp the material and make them not fit correctly anymore.
Be careful when handling your dentures. Only take them out when you're standing over a sink or a towel to cushion the fall.
Follow these tips, and you shouldn't have to contact your emergency dentist to get your dentures fixed or replaced altogether. However, if something does happen to your prosthetic teeth, make sure to call your dentist as soon as possible. That way, you won't have to suffer from missing teeth in Fanwood.
About the Practice
At Scotch Plains Fanwood Dental Care, your personal smile goals and physical health are our number one priority. Our team of five dentists each brings a unique set of skills to the table, including expertise in dentures. If your dentures are broken or damaged in some way, don't hesitate to contact us right away by calling (908) 322-3222.
Comments Off

on Damaged Your Dentures During Quarantine? Here's What to Do
No Comments
No comments yet.
RSS feed for comments on this post.
Sorry, the comment form is closed at this time.